Your Guide to Document and Media Destruction for Your Office and Home
Fri, Feb 09, 2018
By: Jacob Gilmore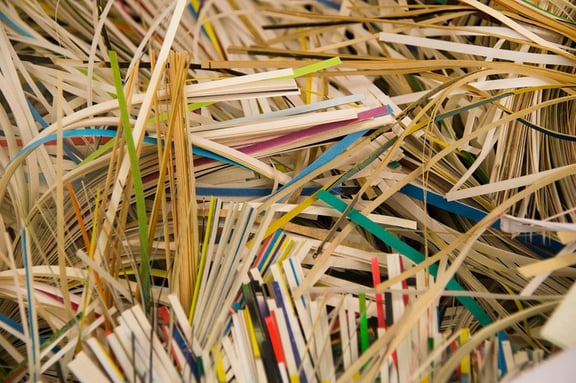 All good things must come to an end, and business information is no exception.
Even if destroying physical and electronic information isn't at the top of your priority list, that doesn't mean it isn't important. Destruction is a crucial part of the information lifecycle, which protects against fraud, identity theft and ensures security of business and client interests.
So a document is over-the-hill. Now what? Do you:
Crumple it up and throw it in the trash
Shred it yourself
Leave it to the professionals
If you answered A or B you're not alone. In fact, many businesses neglect the importance of professional, certified document destruction. Maybe you're looking to save a dime or two, or maybe you simply don't recognize the importance of secure document shredding services. Whatever the reason might be, overlooking professional information destruction exposes your business and your clients to unnecessary risk.
Avoid costly legal penalties and improve overall company security by partnering with a professional information destruction service — read ahead to learn about the various types of document destruction and how physical and electronic destruction services streamline retention scheduling.
Off Site Shredding Services
Off site document destruction is an easy, secure way to get rid of expired information. This service offers a convenient win/win for professionals looking to clear up space: not only are you removing unnecessary clutter but you're improving office security and ensuring document compliance.
Simply dispose of documents to be destroyed in secure disposal bins provided to your office and leave the rest to the professionals. Trained specialists will come by to collect and replace bins according to a predetermined schedule — this will prevent any retention scheduling lapses. The documents are then transported in GPS trackable trucks, after which materials are handled in a state-of-the-art, NAID AAA certified shredding facility. At the end of the process you will receive a certificate verifying document elimination. Just as effective, you may also drop off documents with your trusted document shredding partner at their secure facility.
With a document destruction schedule in place, compliance could not get any easier. DIY document destruction, which is susceptible to human error, has proved ineffective. Thanks to off site document destruction you can keep physical files out of sight and out of mind, while also secure during the shredding process.
On Site Document Shredding
On site document destruction brings the same convenient, secure shredding service to your office doorstep. Similar to off site records destruction, you will receive disposal bins for employees to discard documents, but instead of trucking bins to a separate facility, destruction will happen on-site.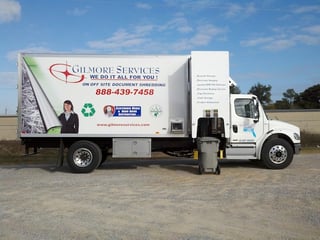 Trained specialists and equipment operators — all of whom have passed high-level security screening — will shred documents on-location. Now, you might think to yourself, "I could just shred my documents at the office on my own, right?" Well, not exactly.
In reality, the only way to ensure complete protection from an information breach, and avoid sensitive document exposure, is to partner with a professional secure document shredding service. Look for for a records management partner that employs AAA NAID Certified procedures to ensure all local and federal regulations are accounted for during document destruction.
Live along the Gulf Coast? Gilmore Services offers on-site document destruction in Pensacola, FL., Mobile, AL., Tallahassee, FL., and Montgomery, AL.
Data Destruction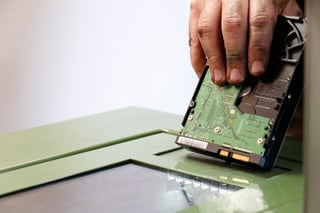 The above services are crucial to business security and document compliance, but what about electronic media?
For all the day-to-day perks offered by technology, there are equally as many security threats to consider. Any 21st century business must put as much, if not more, effort into electronic data retention and destruction as they do physical documents.
A hard drive that is simply tossed into a dumpster is not only vulnerable to security threats, but also not compliant with federal regulations. Destruction of electronic data must follow a set of protocols established by the Department of Defense, which your average employee may be unaware of. That's where hard drive shredding services comes in.
Whether it's employee records, financials, proprietary documents, or health data, electronically-stored information requires the same professional care as physical documents. Data destruction can be applied to hardware such as hard drives, cell phones, or any other drive storing digital media. Your partner should offer secure equipment that meets the requirements of the DOD, and is also compliant with FACTA, HIPPA and Sarbanes Oxley to ensure hard drive destruction is not only convenient but also legally compliant.
Product Destruction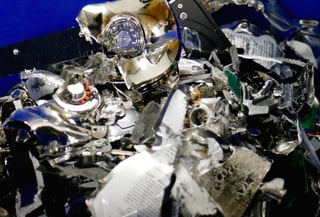 Anyone who has worked in an office with an overfilled closet or storage room knows that documents and hard drives are not the only items that pose potential security risks. Miscellaneous items, accumulated over years of business, could not only store store sensitive information, but might just simply take up space. Practically speaking, there are many clutter culprits in any given professional space that may or may not pose a security risk if not destroyed properly. Items subject to professional destruction include:
Binders
Pill bottles
CDs
DVDs
ID badges
And many more
As with paper documents and digital media, many people are under the false assumption that do-it-yourself destruction is sufficient, but don't be fooled. Only industrial shredding, grinding and disintegration equipment can completely destroy products, and sensitive magnetic media, to ensure efficient and complete protection.
Product destruction services are useful not only to free up space in your office, but also to help keep you compliant and protected against theft and natural disaster. Partnering with a professional product destruction service is easy and affordable, so why put yourself at risk?
Personal Records Drop-Off
Identity theft is one of the most prevalent consumer crimes in the United States. According to the Federal Trade Commission, over nine million individuals, over the age of 16, have their identities stolen every year. Florida residents, in particular, are especially susceptible — Florida is consistently ranked as the number one state per capita in terms of identity theft.
Certified document destruction services are not just for professionals — personal records are just as susceptible to criminal behavior or even unintentional exposure due to mere neglect. The documents you throw away are only secure as long as your trust every welcome, or unwelcome, visitor to your recycling bin. While private residences aren't equipped with the same secure shredding bins as businesses, individuals can deliver documents in-person to be safely and securely destroyed.
Don't let your personal information fall into the wrong hands — discover qualified, trusted drop-off locations in the Pensacola area to shred unneeded documents, keep them from being stolen, and keep your identity safe.
Much like a an old document, or a hard drive past its prime, this guide must also come to an end. But, lucky for you, there is no retention scheduling required for more useful records management content. Check out our blog to learn more about Pensacola document storage and destruction services. In the meantime, contact Gilmore Services for more information about how professional information destruction can improve security and ensure legal compliance for your business.