Does Your Office Need More Secure Shredding Bins?
Wed, Aug 19, 2015
By: Jim Beran
It has become common practice for office environments to use secure shredding bins.
When dealing with secure information, such has hospital records, bank statements, and other highly sensitive information, companies are required by law to be compliant with federal regulations in their industry.
For businesses that use secure shredding bins in their office, this equipment helps create a space to collect discarded paper for disposal. However, when businesses experience an influx in workflow, the additional paperwork and management of these records can quickly become a complicated and frustrating process.
An overflow of paper records could be an indication that it might be time to re-evaluate how many shred bins are needed to operate efficiently. Before you begin looking into options to better streamline records, be sure to consider the different shapes and sizes to determine which secure shredding bin fits your offices needs the best.


Executive Console
The executive console is a convenient bin that can be housed in a central location within an office space. The 32-gallon console can hold approximately 100 pounds, or the equivalent of 4 cases of paper.
Personal Document Container (PDC)/Under-Desk Storage


Offices vary in employee size. The Personal Document Container can easily fit under individual employees' desks. Do your employees handle large volumes of critical documents? This 9-gallon container can hold 25 pounds, or the equivalent of 1 case of paper.

65 Gallon Container

These 65-gallon containers represent the next generation of secure document destruction. Designed with large industrial companies in mind, this bin holds 200 pounds, or the equivalent of 7 cases of paper.
95 Gallon Containers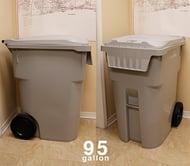 Does 95 gallons sound too small in comparison to the amount of paper your office handles? This bin can hold 300 pounds, or the equivalent of 10 cases of paper.

The Shredinators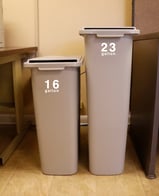 Small Shredinator (16 gallon)
The small shredinator is one of the two newest secure shredding bins we offer at Gilmore Services. This 16-gallon secure shred container is compact and fits perfectly under an employee's desk.
Large Shredinator (23 gallons)
The large shredinator is the second of our newest secure shredding bins and stands slightly taller than a desk, making a great fit when placed next to an employee's workstation.
If you would like to find out more about secure shredding bins to help organize your office and remain compliant with destruction laws, we welcome you to contact our records management company today.