Why Outsourcing Document Shredding Beats an In-House Job Every Time
Wed, Nov 16, 2016
By: Jim Beran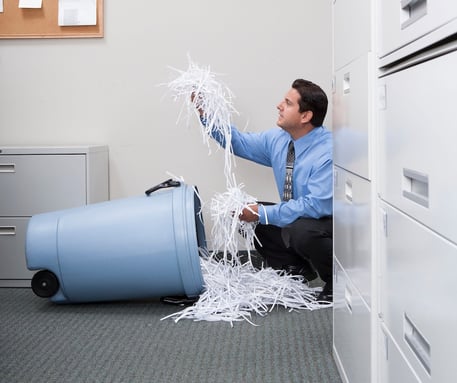 Handling your shredding needs in the office with a consumer-grade shredder might seem like a cost-effective and time-efficient way to destroy your company's confidential documents, but your business might not save as much money and time as you think. In-house shredding can waste valuable employee time, increases the potential for mistakes and even poses security risks.
Professional on-site shredding or off-site shredding offers convenient and secure destruction of paper and electronic information by trained specialists, eliminating many of the potential risks of in-house shredding. Let's look at a few key areas to consider when weighing in-house shredding versus a professional service.
Cost
Businesses can purchase consumer shredders for less than $100, and many companies might consider that a bargain. If your business shreds very few documents, the do-it-yourself option might offer value, but if you shred consistently, the costs quickly begin to add up. Potential expenditures include:
Labor Costs. Employees who are tasked with shredding information put aside their regular business responsibilities in order to handle destroying documents. While this time may seem minimal, over time this added task can take a toll on performance.
Maintenance. That inexpensive shredder has a limited capacity and requires ongoing maintenance. The low price may seem appealing at first, but is quickly offset by maintenance and replacement costs.
After just a few months, the costs associated with in-house shredding can add up to the cost of working with a professional shredding service.
Security
Security often represents the primary consideration for a company's shredding system. As business owners and managers know, proper disposal of sensitive documents is critical to compliance and customer satisfaction. However, when shredding is handled in-house, untrained and uncertified employees are often left responsible for deciding what needs destroying and what doesn't, creating the potential for costly errors.
Professional shredding, on the other hand, ensures security. Document destruction services deliver secure disposal bins to your office, where your employees can deposit sensitive documents. Then, those documents get disposed of on a regular schedule then either shredded on-site at your office or off-site at our certified secure facility. With off-site document shredding, all information leaves your business in a GPS monitored vehicle for secure tracking.
Throughout the process, only trained specialists handle your records and afterward, you receive a certificate of destruction, stating the safe and thorough disposal of your documents.
Cost-effective and convenient professional document shredding service ensures compliance with document disposal regulatory guidelines, enhances security and maximizes employees' time, so you can focus on running your business.
Learn more about how Gilmore Services can provide the document shredding services for your business through our experienced and NAID certified shredding services. Learn more by downloading our secure shredding bins guide to discover which is right for your company. Have questions? We're here to help, simply contact our shredding experts today.