Who Can You Trust With Certified Document Destruction?
Wed, Mar 09, 2016
By: Jim Beran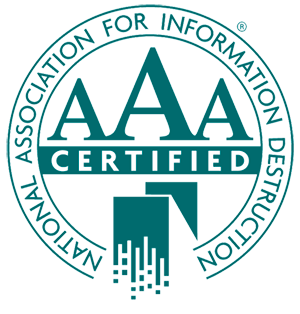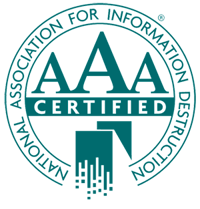 You wouldn't entrust just any company to maintenance your car or mortgage your home, would you? More often than not, you're going to research to confirm that they are licensed and have the proper certifications in place. If they don't, then the search continues until you find a secure business or a trustworthy partner.
In the professional world, searching for the right document destruction company is similar.
Eliminate the risk of your company's documents being mishandled or subject to non compliance by learning what certifications to look for in a records and information management company.
Are They NAID AAA Certified?
It's one thing to be a member of the National Association of Information Destruction, but a certified organization has proven that they are capable of operating in strict accordance of policies and procedures. There are a number of industries that are required by law to properly dispose of confidential material. Primarily, the FACTA Final Disposal Rule requires the destruction of all consumer information before it is discarded. If your business maintains any customer information, it's your responsibility that it remains secure.
NAID is a program created by security professionals and is recognized by thousands of government and privately owned organizations around the world. Being a NAID certified records and information management member means undergoing comprehensive unannounced audits. Employees are put through extensive three-level background screening processes and no individual with a known history of related crimes will handle confidential documents.
The certification verifies that the appropriate protocols are in place, securing confidential material throughout all the stages of the destruction process including handling, transporting, storing of materials prior to destruction, and the destruction and disposal of the materials responsibly. Lastly, a certificate of destruction is issued after each service.
Downstream Data Coverage
Data breaches and dumpster diving continue to make headlines in the media. Companies purchase insurance policies with the goal to protect their customers, but not all plans are created equal. In some cases, contracts are inadequate and have no protection in place for the customer. Recognizing these issues, NAID put together a unique insurance policy specifically designed for records and information businesses.
Downstream Data Coverage is an insurance policy made to protect records management companies and their customers. At Gilmore Services, we're proud to be a provider of the best data-related insurance policy in the nation.
When searching for the best company to trust with secure and compliant shredding services, look for the NAID AAA logo, ensuring the strictest and most secure destruction practices. To learn more about information destruction for your business, contact us to talk to one of our records management experts.