If You Own a Business, Don't Risk DIY Document Destruction
Wed, May 11, 2016
By: Jim Beran
These days, it seems there is a do-it-yourself option for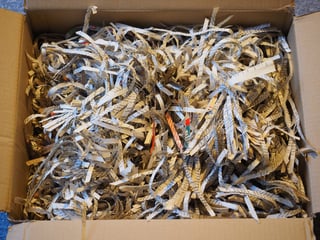 everything. You can make your own candle holder from a glass bottle, or remodel your own bathroom with a few tips from YouTube.
When it comes to secure document destruction, however, doing it yourself can be a gamble. Any potential cost savings don't outweigh the security risks and unnecessary hazards. After storing documents safely for years, the last thing you want is for improper disposal to jeopardize their confidentiality.
If you are a business records management professional, know that document destruction is best left to the experts. Here are three reasons why.
Maintain security
You wouldn't store your precious keepsakes in an iron safe for years only to throw them away in a public dumpster. The same goes for your records management. When it comes to sensitive documents, secure processes should be in place from beginning to end. Once the document storage lifecycle is complete and documents need to be destroyed, a trained professional, with the right equipment and procedures, can make sure it's done properly.
Much of what sets document destruction options apart has to do with the equipment. Most personal or office shredders are designed to cut documents into long vertical strips. If disposed of incorrectly, these strips could potentially be reassembled. Conversely, industrial shredders mince papers into tiny pieces which are then properly disposed of by expertly trained, screened personnel, making reassembly impossible and preserving privacy from start to finish.
Keep compliant
Compliance is not just a choice, it's the law. Many sensitive documents require a certificate of disposal in case of future auditing or investigation. This type of documentation proves that the materials in question were destroyed in a way that complies with state and federal laws and regulations.
When looking for a professional records management company, consider those that provide certified document destruction and research the types of security procedures they follow to ensure your business remains compliant with both storage and destruction.
Ensure a safe workplace
Personal shredders are designed for occasional shredding and aren't meant to handle large jobs. In fact, accidentally shredding an errant paper clip or staple could cause a spark and light flammable paper shreds on fire. What's more, paper dust particles can contribute to respiratory issues and other potential safety hazards.
Professional document shredding personnel are trained to use industrial-grade equipment with special safety measures in place. There's no need to risk employees' health when a professional can schedule document destruction at your location, or pick up your documents to shred at their safe facility.
Despite the temptation to do it yourself, it's best to leave secure document shredding to the experts. Professional records management companies take the risk and personal danger out of the document destruction equation.
Find a service that will come to your location for on-site shredding, or schedule a pick-up for destruction at a protected facility. You will not only save your business from a potential system breach, but enjoy the convenience, security, and overall time savings that come with it.
Learn more about how Gilmore Services can help you move, store, and shred secure business records and sensitive documents.