Are Your Business Records in Danger? Pros and Cons of DIY Document Storage
Tue, Oct 31, 2017
By: Jacob Gilmore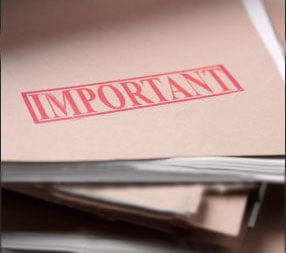 As your business grows, a filing cabinet is often not enough to contain all of your important records. Threats like theft, prying eyes and environmental dangers like mold or water damage can seriously harm your important documents and put your business at risk.
Packing a storeroom with boxes or renting a storage unit may seem like an easy fix, but is it the best way to keep your important records, and business, safe?
Does your mini-storage facility offer document security guarantees, insurance coverage or shredding services? See the pros and cons of Do It Yourself document storage techniques.
What is the best document storage solution for your business?
Managing employees, filing taxes, keeping client records and investing in furniture or equipment are all part of running a business. These tasks also come with piles of paperwork. As successful businesses, big and small, know, an organized and streamlined office space is essential to a productive workplace. But how can you keep all of these paper files organized, safe and secure?
Several document storage options are available as a potential right fit for your business. Some of the most common choices are on-site storage by using a spare office and self-storage by renting an offsite storage unit. Another option is to work with a professional storage company. In all of these cases, it's important to consider the benefits along with hidden costs and dangers to determine what makes the most sense for your company.
No matter what you choose, storing your important records shouldn't put a huge dent in your bank account, but it should give you peace of mind knowing your documents and files are safe.
Document Storage Do It Yourself Pros & Cons
For some jobs in life, the Do it Yourself approach makes a lot of sense. Household projects can often be tackled with a little patience and creativity. Certain businesses needs like going to the post office or purchasing furniture can even be considered fun when you do it yourself. In these cases, the DIY path can be cheaper, faster and more customized.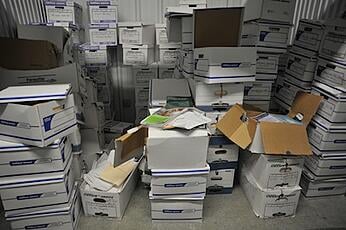 Businesses often turn to DIY methods to take care of document storage too. Common solutions are to store files on-site in boxes or filing cabinets, or to house boxes in
files outside of the office in a rented self-storage unit. While these options may seem like an easy fix, they often come with hidden costs and hassle.
In fact, storing documents in your office is the most expensive document storage option due to the high cost of office space. It also exposes your company to increased risk of sensitive information falling into the wrong hands.

On Site/In-House Storage Pros


On Site/In-House Storage Cons

· Low financial impact

· Close proximity to documents

· Most expensive option for storing information because of the high cost of office space

· Exposes your vendors and employees to increased risk of misuse of sensitive information

· Exposes clients to having sensitive information fall into the wrong hands

· Exposes company to disgruntled employees accessing sensitive information

· Clutters office, takes up space

· Subject to loss or damage in case of theft or natural disaster

· Prone to damage if not stored properly (e.g. stacked incorrectly)

· Files may be hard to find if not catalogued and labeled properly


Off Site/Self Storage Pros


Off Site/Self Storage Cons

· Convenient

· Less expensive than renting more office space

· Gets vital records off-site

· Provides some control of access

· Reduces clutter and provides more space in the active office area

· Storage environment not properly managed

· Records at risk stored on floor or on wooden pallets instead of shelving

· Security & privacy not guaranteed

· Higher risk of workers' compensation issues due to your employees lifting heavy boxes

· You are charged for unutilized space

· Mileage reimbursement for employees who are asked to travel

· No knowledge of what is being stored next to you

· No guarantee records will be kept well organized & identified to facilitate access and retrieval

· Inadequate pest control & fire protection

· Lack of segregation of Record Storage from other warehouse operations

· Lack of security to monitor files

· Does not have to sign Business Associate Agreement, protecting personal health information
Benefits of Professional Storage
Did You Know? On average, professional storage is 40% less expensive than a self-storage unit. Plus activity charges are comparable to in house labor costs
Safe record storage keeps information secure, an office organized, and your company compliant with laws and regulations. Such an important part of running a business shouldn't be overlooked or taken lightly. As an alternative to DIY document storage, professional document storage may be a great option for your business.
Benefits of Using a Professional Document Storage Company
Properly managed environment: professional facilities protect your information against the elements while meeting vital records and disaster recovery guidelines. You don't have to worry about mold, water, fire or other common environmental damages with a clean, dry, ventilated facility.
Secure access: storing your information professionally means access to your information is secure. Only certified employees with rigorous training and background checks may handle your information. Also, state-of-the-art alarm and motion detectors help prevent security breaches.
Easy retrieval: forget rummaging through boxes trying to guess where you put something. Every box is labeled, tracked, and inventoried with a computer system and bar-code tracking. Specialized software makes finding your files quick and efficient.
Affordable: professional records storage is more affordable than most people think! For example, at Gilmore Services, it will cost you less than the price of a cup of coffee a day to professionally store up to 100 boxes a month in our secure facility. In addition, you only pay for the space actually used, often making it more affordable than self-storage units that make you rent more space than necessary.
Like choosing your doctor, you want the most skilled person to keep you healthy. The same goes for records management. With a records management company like Gilmore Services, you can easily manage and store boxes of documents in our secure facility. Your information is categorized and ready for you whenever you need it. Also, you don't have to worry about unauthorized accessed to your information – and you may even save money while getting these additional benefits.
Remember, these documents represent the most important parts of your business, and we are here to keep them safe. If you have questions about professional document storage, digital document imaging or records management, contact us to find out the many ways Gilmore Services does it all for you.