The Real Cost of Professional Document Storage
Tue, Jan 07, 2014
By: Jim Beran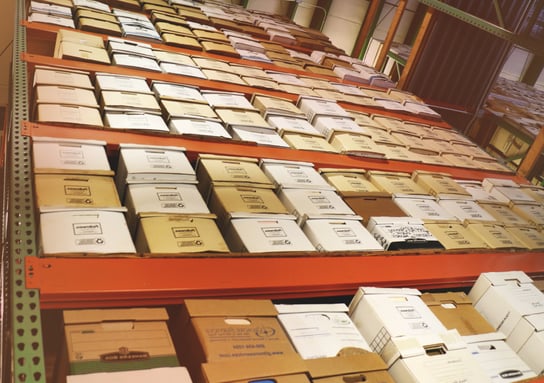 For many small business owners, documents contain vital company information. Boxes comprised of contracts, employee records, taxes, receipts, manuals and other important information are essential to the legacy, compliance and history of an organization.
Storing records in your office or at a self-storage unit could put sensitive and confidential information at risk. In fact, improper document storage could be more damaging to a small business in the event of a loss or a breach.
A small business owner may not be financially prepared to recover from a loss caused by a disaster like a flood or fire or from a breach like a disgruntled employee who gains access to records.
To ensure your documents are secure and safe, it is important for businesses to consider a professional document storage company. You may wonder if professional and secure document storage is out of your price range. But, did you know? You can store 100 boxes a month for less than the cost of a cup of coffee per day. It's really that affordable!
Here's a sample of some of the different document storage pricing plans we offer:
Bronze:
store 1-70 boxes for $40.90 a month
Silver:
store 71-100 boxes for $58.50 a month
Gold:
store 101-150 boxes for $87.64 a month
Download Your Free Guide: DIY vs. Professional Document Storage
In addition to keeping your documents organized and secure, check out the benefits of switching to a records management company:
Document security guarantee

24/7-file access

File delivery guarantee

Computerized file indexing

Insurance coverage

Employee background checks

Boxes sorted on metal shelves

Effective pest control

File shredding services

Imaging services

90-day money back guarantee

Saves you and your staff valuable time and energy
Don't wait until your files are lost or damaged to consider professional document storage. At Gilmore Services, we're here to help you with all of your document storage questions. Learn more about the real difference between DIY vs. Professional Document Storage in our free guide highlighting the pros and cons of different document storage solutions and options.