5 Rules to Know When It's Time For Offsite Document Storage
Wed, Jul 08, 2015
By: Jim Beran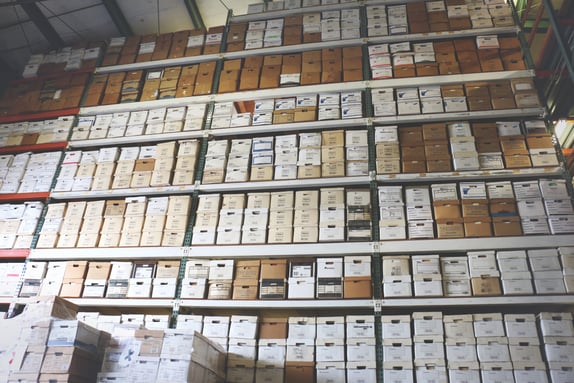 There are rules for running a business. Just like in any sport, each player has a position they are in charge of, but still rely on the assistance of their teammates to complete a play.
Similarly, in an office environment, employees are responsible for individual tasks, but they also interact and communicate with coworkers in order to accomplish assignments. For a company office manager or records manager, their responsibilities often involve maintaining important business records and keeping documents inventoried, organized and compliant. Here are the 5 rules to know when it's time for off-site document storage:
Rule #1: When it comes to clutter, be on your game
Over time, records accumulate. A filing cabinet may carry over to boxes that will eventually take up vital office storage space. If you're seeing too many boxes in your office, it's time for off-site document storage to free your office of clutter and maintain a organized work environment.
Rule #2: Triple-play workflow
Most businesses are required to keep certain records for a designated amount of time. Closed cases, old medical records, or financial documents still need to be accessible in case they are needed in the future. That's why it is important you have easy access to your safely stored records. Instead of wasting precious space on old records, store them at a safe off-site document storage facility and only keep the files you need frequently.
Rule #3: Stop paying for nose-bleed seats
No business wants to spend a lot of money without seeing a some version of a return. To rid your office of excess files, a self-storage unit might seem like an easy option. In reality, a NAID certified records management company keeps off-site documents secure, organized and protected, often at half the price of self-storage options.
Rule #4 Aim for the 'ship
Businesses do not aim to fail. As they grow and build on their success, it's natural for paper work to pile up. On top of that, certain industries are also held to a high standard with laws and regulations and are expected to be up-to-date with compliance. Bring your office to the next level by choosing to store excess records with a reputable off-site document storage facility. Go for the home run.
Rule #5 Keep the enemy from stealing home
Business documents are like the home base of baseball. They are the most coveted items and need to be protected accordingly. In a world where data breaches and identity theft happens every day, securing important records can be a challenge. That's why it is important to seek out a document storage facility equipped with high-security and surveillance 24 hours a day.
Be the best player in the game and protect your business documents with offsite document storage. To find out more and learn how to make records management work for you, we welcome you to contact us today.