Is Improper Document Shredding the Slow Death of Your Business?
Wed, Apr 08, 2015
By: Jacob Gilmore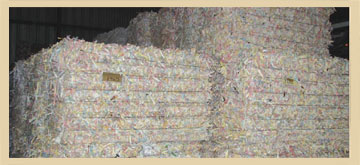 Anyone can buy a desk-size paper shredder for a reasonable price. So how could it mean the death of your business to handle document shredding on your own?
For businesses that work with very little paper and do not deal with any sensitive customer data, proprietary trade information, or other important documents that are regulated by law, do-it-yourself document destruction may work for you. However, for most businesses that house sensitive information in hard copy format, the law requires that those documents be properly stored and/or destroyed in specific ways.
First, think like a criminal
The reason for this is obvious: sensitive personal data can be used to steal someone's identity, company information, and do a number of other unethical things that infringes on your and your customers' rights. When it comes to identity theft, no location is off limits, not even the company dumpster.
Shredded documents from a cheap office shredder are fairly easy to reassemble if someone wants to take the time to do it. And when you just empty your shredder into a garbage bag, tie it up and throw it out, every one of the documents you've destroyed is kept neatly together in a convenient bag that can be thrown over the shoulder and brought home.
Unfortunately, just one serious privacy scandal that can be traced back to negligent security measures on the part of your company could result in serious consequences for your business.
Now, think like a businessperson
Aside from ensuring employees are properly using the shredder or the hassle that comes from removing staples and paper clips, in-house shredding can have professional repercussions as well. Thinking as businessperson, is it prohibitively expensive to outsource your document destruction needs? The answer is no. In fact, there's a good chance the price is equal to or better than what is cumulatively spent purchasing, running, maintaining, replacing, and emptying your office shredders.
When you outsource your document destruction needs to a certified professional records management company, you get the assurance of knowing that every sensitive document will be destroyed in such a way that no one will ever be able to read them again.
As the leading Pensacola shredding company, we are certified by the National Association of Information Destruction and our industrial shredders aren't going to slow down because of a paper clip or a staple. If your business is currently relying on DIY document destruction, now is the time to consider if the risk is worth it. To find out how we can help, learn how vigilant is your business against identity theft? and contact us today.