Why Gilmore Services Isn't Afraid of Logistics
Tue, Feb 25, 2014
By: Jacob Gilmore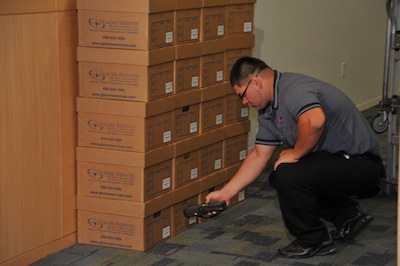 Depending on the industry, every business must be aware of its strengths and the ways it can best serve its customers. At Gilmore Services, we stay in-tune with the records management industry to offer our customers more than document storage and shredding. Because we began as a residential moving company almost 60 years ago, our experience in the details of moving has carried over as an asset to our other departments.
Take logistics, for example. From the start, Gilmore Services ensured logistics was an asset not a hindrance of a move. No matter where a person or business was moving, we found solutions to make their move successful. This philosophy holds true today in our records management department. Take a look at why Gilmore Services is not afraid of logistics in any department:
There's no such thing as too far
At Gilmore Services, we have multiple trucks traveling across the country on a daily basis. Although our headquarters is in Pensacola, Florida, we are truly a nationwide company when it comes to moving and records management.
We make sure the job gets done
For our customers interested in document shredding or storage, we're here to take on your project. Local or out-of-state, you can expect the same level of care when it comes to your important business documents. If we are unable to get to you, we use certified and secure professional subcontractors in many regions to manage your records and make sure the job gets done, like we would do it.
Size doesn't matter
Because of our experience in logistics, we are happy to work with customers nationwide on big or small requests. From Daytona Beach to New Orleans to California, we will get it done. What if you live in North Carolina and only want us to shred one box of documents? No problem. If we aren't able to do it, we will find a NAID certified associate to shred your information securely. One box or one million boxes, we love a challenge!
How does it work?
Simply give us a call to see how we can best take care of your records. At Gilmore Services, we have a very strong chain of custody when it comes to your documents.
From the time we are in control of your box to when it arrives at our office, we know every hand that has touched the boxes. What if you simply want to ship your records to us? Easy. We send you a sealed container with a lock, and you can ship it back with your documents via FedEx.
Wherever your business is in the country, you're taken care of at Gilmore Services. Because we aren't afraid of logistics, we're ready to handle your records and keep your information secure. Want to learn more? Find out the difference between DIY and professional document storage.