3 Ways Paper Shredding Services Can Save You Money This Year
Wed, Feb 15, 2017
By: Jim Beran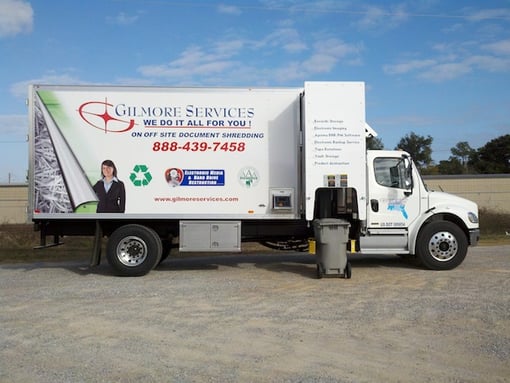 If you're looking for ways to cut costs and maximize revenue in 2017, partnering with a professional paper shredding service is a great place to start. Professional on-site shredding or off-site shredding eliminates many of the risks and extraneous costs related to in-house shredding practices.
While managing shredding tasks in-house might seem like a cost-effective and time-efficient shredding solution, your business probably isn't saving as much money and time as you think. In-house shredding can waste valuable employee resources, increases the potential for mistakes and pose security risks.
Let's take a closer look at how professional paper shredding can add value to your business this year.
1. Maximize Staff Resources & Skills
Unless you've hired someone whose core responsibility is to safely destroy company records, your staff is likely wasting valuable resources allocating their time to nonessential shredding tasks.
Employees who are tasked with shredding documents put aside their regular business responsibilities in order to handle destroying information. While this time may seem minimal, over weeks and months, this added task can take a toll on performance and revenue.
Relying on untrained staff to decide what needs destroying and what doesn't also creates the potential for errors. Wrong decisions could expose your company's sensitive documents to criminals or forms of corporate espionage and require costly reputation management.
2. Overhaul Organization
Using regularly scheduled shredding services frees up valuable physical space and ensures the job gets done in a thorough and organized manner.
Once documents reach the end of their useful lifespan and are no longer required for compliance, shredding offers a great way to get rid of old filing cabinets and repurpose document storage areas with workstations. This process creates a more efficient office space and allows your business to focus on customer satisfaction.
Professional paper shredding services also help enhance organization by providing secure disposal bins where your employees can conveniently deposit sensitive documents. Those documents get disposed of on a regular schedule then either shredded on-site at your office or offsite at our certified secure facility.
3. Make 'Peace of Mind' a Reality
Peace of mind may not initially seem like a money saving benefit. But when you work with a professional paper shredding service, you receive a formal certificate of destruction to ensure the most appropriate shredding practice has been carried out. Add that benefit to the regularly scheduled service and you'll almost forget about the document destruction process, allowing you to put more effort into delighting your customers.
Ultimately, a cost-effective and convenient professional document shredding service ensures compliance with document disposal regulatory guidelines, enhances security and maximizes employees' time, so your team can focus on carrying out their roles as efficiently as possible.
Find out how Gilmore Services can provide the document shredding services your business needs through our experienced and NAID certified document destruction services. Learn more by downloading our secure shredding bins guide to discover which is right for your company. Have questions? We're here to help, contact our shredding experts today.