Your Top 5 Commercial Moving Questions Answered
Wed, May 25, 2016
By: Jacob Gilmore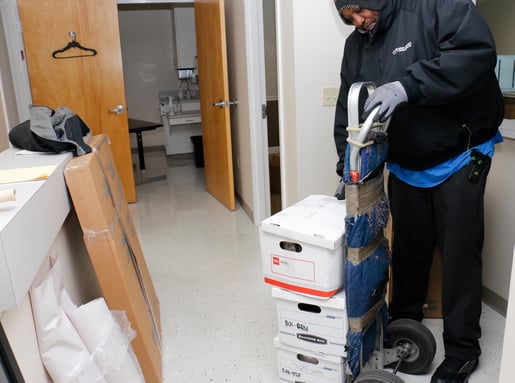 Businesses that experience new growth and development will eventually need to hire more employees in order to sustain an advanced workload. More business typically indicates more customers, paperwork, and ultimately the generation of more revenue.
When experiencing these growing pains, a business owner may consider relocating to a larger professional environment. Moving an office, big or small, is no minor task and doesn't happen often. Relocating equipment, furniture, valuable items, and sensitive information often requires the assistance of a commercial moving company.
Whether you've moved your company multiple times, or this is your first time relocating your business, here are your top 5 commercial moving questions answered by our expert moving consult at Gilmore Services, Mary Albertini.
Is there a free estimate?
Yes! Have a moving consultant come to your office and do a "walk through" with you. Make sure you point out all furniture, office equipment, and other contents that you would like moved. Be specific! While you may choose to have several companies provide you with quotes, choosing the least expensive option may not be the way to go. Make sure you check out their credentials. Don't hesitate to ask for a list of companies they have moved in the past.
Who is responsible for packing?
A commercial moving company can pack everything or only what you designate to them. Ideally, personal items can be packed up by individual employees and taken home temporarily. Start by clearing out old materials and items that will not be used at the new location.
Ask your consultant if they can include the price of boxes for employees to pack, or if they have e-crates (large plastic bins with attached lids that can be stacked on a dolly - no tape needed). These are normally rented out by the week, and should be delivered one week prior to the move and picked up one week post move.
How is the cost determined?
Moving costs vary depending on the workload. Commercial moves are primarily billed by the amount of manpower and hours worked, as well as the equipment needed to complete the move in a timely manner. Some factors to consider that could affect the cost could be the presence of stairs or elevators and the distance to commute between office locations.
Another cost factor is the timing of the move. If the move needs to be done after 5:00 p.m. and or on the weekend, overtime rates are normally billed. If you work with a building manager, be sure to check with them to confirm move out hours before meeting with the moving consultant.
What type of equipment is provided and used?
Special equipment is usually needed to move a company. Offices usually have a number of computers, electronics, and industry specific furniture and other equipment that must be handled specifically and carefully. Specialized moving equipment that is typically used includes e-crates, file carts, computer bags for storing keyboards, mouse and other cords, and specialized boxes to transport pictures, lamps and other smaller items.
Colored labels should be used on furniture and boxes to indicate where new items will be placed in a new office. If any of your equipment is leased, check with the leasing companies prior to moving them. Most will not honor the warranty if moved by an outside mover. If they give the 'ok' to have the items moved, be sure that they properly service the equipment prior to moving.
Are there specific qualifications to look for?
When hiring a company to relocate your business, you want to make sure the team can be trusted not only with your furniture, but you confidential documents as well. Has your moving consultant passed the AMSA's Certification for office and industrial moves? This is a reputable certification to look for in commercial moving companies. Check out the company's website: Are the employees background-checked and have they passed high-level security screening? A quick Google search of local commercial moving companies will help you determine the right option.
It's not every day that a business owner has the opportunity to expand and grow their company. Though the logistics behind an initial commercial move may be daunting and stressful, the process can go smoothly with the right team.
When hiring a professional company to do the physical moving for you, you can have a peace of mind knowing your equipment and documents are being handled properly. If your business is experiencing growth and looking into commercial moving options, contact us for a complimentary estimate.