Secure Document Storage to the Rescue: Protect Against ID Theft in 2017
Wed, Jan 04, 2017
By: Jim Beran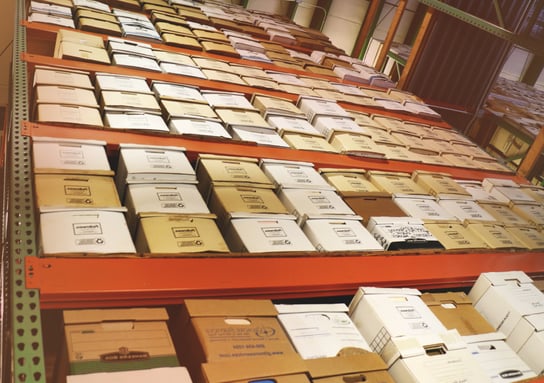 Identity theft is a common concern for both businesses and consumers, and not without reason. A recent study found that $15 billion was stolen from 13.1 million U.S. consumers in 2015. In the past six years, identity thieves have stolen $112 billion.
Nearly 100 million additional Americans have their personal information placed at risk of identity theft each year when records maintained in government and corporate databases are lost or stolen. The data breach at Yahoo! represents just the latest example of stolen information many consumers thought to be safe.
Improperly stored paper documents and data files can leave your company exposed to identity theft. As a business leader responsible for valuable employee and client data, you need to make sure all the information you store is secure and safe.
Secure document storage is one way to protect your business's valuable records against theft. Let's look at some of the benefits of secure document storage and destruction and how the right precautions can protect your business.
Secure Transportation & Storage
From secure transportation to controlled storage, the right document storage services will ensure the secure management of even your most sensitive documents.
Reputable storage services provide safe, environmentally controlled secure storage, transportation in secure GPS-monitored vehicles, so you can have peace of mind about the safe transport of your documents to the secure storage location.
For ongoing security at the storage location, document storage services should only employ highly screened and certified staff to handle your records. In the unlikely event of a break-in or theft, these employees will be responsible for the safekeeping of your documents, so make sure your document storage company offers 24-hour video surveillance monitored by trained professionals.
Proper Document & Data Destruction
When you handle document destruction in-house, untrained employees are left responsible for deciding what needs destroying and what doesn't, creating the potential for costly errors.
Professional shredding ensures security. Document destruction services deliver secure disposal bins to your office, where employees can deposit sensitive documents. Then, those documents are destroyed on a regular schedule either at your office or offsite. With off site document shredding, all information leaves your business in a GPS monitored vehicle for secure tracking.
Failing to properly destroy your company's hard drives can also expose your sensitive data to criminals and damage your company's reputation. Even data on damaged and partially erased hard drives can be retrieved, so be certain of the complete destruction of your data with an experienced and trusted hard drive shredding service.
Again, throughout the process, only trained specialists should handle your records and afterward, you should receive a certificate of destruction, verifying the safe and thorough disposal of your records.
Working with a certified document storage company can help protect your company against identity theft. At Gilmore Services, we understand the importance of records management, so we strive to protect your business and help you remain compliant. Our document management and records storage services are secured by 24-hour surveillance and highly trained staff.
Contact us to discuss the best document storage services for you and take the first step toward ensuring the complete safety, longevity and usability of your company information.