Make Sure Your Moving Company Checks these 5 Boxes
Thu, Nov 22, 2018
By: Patrina Sykes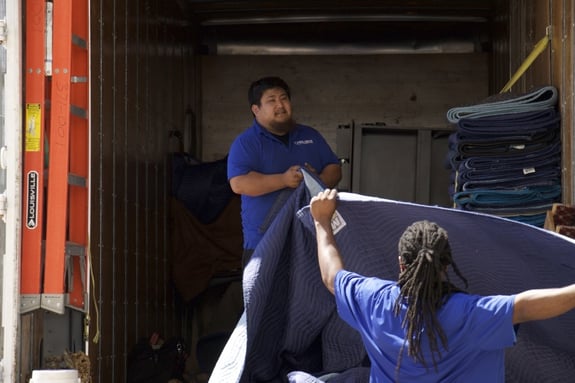 Hiring a moving company is a big decision. Make the wrong choice, and you might end up with a frustrating experience that includes late arrival and departure times, unpleasant service, and even damaged belongings.
The key is knowing which things to prioritize when you evaluate the moving companies you're considering. To help you out, we've compiled this list of 5 boxes that the moving company you hire should check.
#1: Experience and Longevity
The first thing to check out is how long the moving company you're evaluating has been in business, as well as how many years of experience the owners have in the moving industry. It may be fine to hire a new company provided that it's not run by people with no experience.
Experience can affect everything from the company's reliability to their handling of your personal items. If you can't find information about the company's experience on their website, make sure to ask them directly.
Be on the lookout for companies that have changed their names multiple times. You can check that on the Secretary of State's website. Frequent name changes may be an attempt to trick potential clients.
#2: Accreditation and Licensing
All moving companies doing business in Florida must be licensed with the Florida Department of Agriculture and Consumer Services (FDACS.) While FDACS licensing is required, it does not exempt any company from obtaining required local or municipal licenses to operate.
It's also a good idea to check to see if your moving company is accredited by the Better Business Bureau, which requires members to maintain high standards of customer service and transparency.
Finally, ask if your moving company has an accreditation from the American Moving and Storage Association. The AMSA vets all members, requiring that they are properly licensed, insured, and compliant with all relevant federal and state regulations.
Proper accreditations mean that the company you're considering pays attention to details and holds themselves to a high standard.
#3: Customer References and Testimonials
Before you hire a moving company, you should ask if they can provide you with some customer references – people you can call to get an idea of what working with them will be like. You'll likely find testimonials on the company's website but talking to a past client is preferable because you can direct the conversation to the issues most important to you.
Make sure to ask about the company's communication, honesty, rates, and service. That's the best way to be sure you're hiring a trustworthy and reliable company to handle your belongings.
#4: A Reliable Estimate
Some moving companies have cost estimations on their website, but you should look for a company that will come to your home, do a walk-through, and give you an accurate price based on the specific items that they'll be moving.
When you get an estimate, make sure that it includes charges for any items that require special handling. Some moving companies have experience moving antiques, valuable artwork, and other specialty items. If you have anything out of the ordinary, make sure to let your moving company know in advance.
#5: No Hidden Fees
Sometimes, unscrupulous moving companies quote a price only to tack on surprise fees at the end of the move. For that reason, it's important to read your contract thoroughly before signing it. You should also ask specifically if there are any additional fees or charges that you need to know about.
On a related note, never pay a large deposit to a moving company. A reputable company will ask you to sign a contract and require payment only when the move is complete. It's also a good idea to pay with a credit card, so you have some protection in the event that something goes wrong.
Conclusion
Hiring the right moving company is what will determine whether you have a pleasant moving experience or a stressful one. Checking off the 5 items on this list can help you hire the right company.
To learn more about how Gilmore Services can help with your move, please click here.