Is Your Firm at The Mercy of One Misplaced Document?
Mon, Dec 22, 2014
By: Jacob Gilmore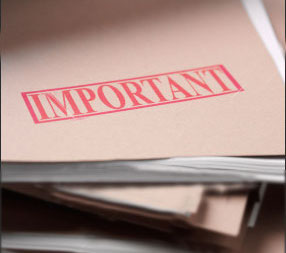 High on the list of what helps businesses remain successful is proper information management. In fact, one misplaced document could put a business like a financial agency, law firm or medical practice in jeopardy. Though one lost document greatly impacting a company might sound extreme, the power of sensitive information can't be overlooked. With so much to appreciate about a thriving business, it's important to protect documents that, if lost, could derail an organization dramatically.
A qualified records management company has the experience and skill to protect information. Here are some major ways your company can be at the mercy of one misplaced document.

A productivity killer
Unorganized office files, piles of documents or miscellaneous boxes stacked in a storage room are all warning signs for businesses. When an important record is misplaced, time is often spent searching for it and office workflow is interrupted. Productivity can't increase when time is put toward searching for documents in an unorganized system. Professional document storage can help businesses focus on important tasks instead of wasting time looking for files.
No document, no proof
Whether it's an important receipt, a contract, or financial records, lost information poses a serious challenge when it's needed for proof in important cases like a lawsuit or an audit. Even for less critical situations, misplaced information can cause a hitch in otherwise normal processes where documents are requested.
More than just the business is at risk
Lost information can post dangers to a company, but the risk grows if the documents involve personal information. For firms that retain client, patient or customer information, the need to keep personal files guarded is legally necessary. To avoid harming client relations and a loss of trust in your organization, proper records management is essential.
Is your firm's important information secure? To find out more about protecting information with services like offsite document storage, contact us, and learn How Your Small Business Can Improve Efficency and Save Money with Professional Records Management.