Hurricane Michael Business Recovery Resources & Loan Programs
Mon, Nov 12, 2018
By: Jim Beran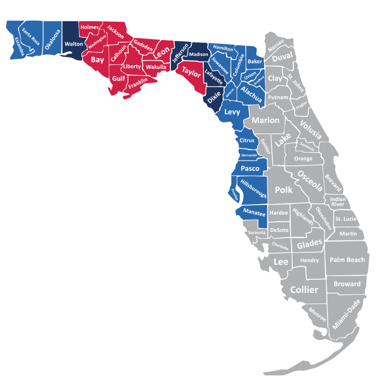 On October 10, 2018, Hurricane Michael made landfall in Florida. It ultimately proved to be the strongest storm on record in the Panhandle and caused millions of dollars of damages.
Florida business owners know that hurricane-related damage is a risk every year. What you may not know is that there are recovery resources and loan programs that can help you get back to normal in the aftermath of Hurricane Michael. Here's what you need to know.
What Is the Florida Small Business Emergency Bridge Loan Program?
Following activation by the Governor, the Florida Small Business Emergency Bridge Loan Program provides short-term, interest-free loans to businesses impacted by a disaster. Governor Rick Scott activated the program after Hurricane Michael, which means that small business owners may currently apply for disaster loans.
The deadline to apply is December 7, 2018. Loan amounts are available as follows:
Up to $25,000 for businesses with fewer than two employees
Up to $50,000 for businesses with 2 to 100 employees
Loan amounts up to $100,000 may be available in special cases if the needs of the business warrant a higher loan amount.
To apply, your business must have been established prior to October 7, 2018, and have sustained damage or economic injury related to Hurricane Michael. You will need to complete an application and provide necessary documentation, including:
Photographs of physical damage and estimates to repair it
Proof of economic loss (e.g. a comparison of last year's income with your income post-hurricane)
Business, employer, and individual tax returns
In addition, you may choose to provide additional information to expedite the loan process, including:
Year end financial statements for the past two tax years
Interim financial statement for the current year to date
Monthly sales figures
Explanation of any credit report concerns or issues
It's important to submit all required documentation if you want to qualify for a loan.
Who is Eligible for a Florida Small Business Emergency Bridge Loan?
As stated above, Florida Small Business Emergency Bridge Loans are for businesses with 100 or fewer employees. However, there are some other requirements you need to know about:
The business must be located in a designated county: Alachua, Baker, Bay, Bradford, Calhoun, Citrus, Columbia, Dixie, Escambia, Franklin, Gadsden, Gilchrist, Gulf, Hamilton, Hernando, Hillsborough, Holmes, Jackson, Jefferson, Lafayette, Leon, Levy, Liberty, Madison, Manatee, Okaloosa, Pasco, Pinellas, Santa Rosa, Suwanee, Taylor, Union, Wakulla, Walton, or Washington.
If your business was previously awarded a Florida Small Business Emergency Bridge Loan, you must have paid it in full in order to quality for a new loan.
Your business must not derive more than one third of its income from legal gambling. You may not engage in any illegal activities. In addition, you must not earn income from any indecent sexual activities or performances. Massage parlors, escort services, and hot tub services are not eligible.
Interest Rates and Other Important Information
Florida Small Business Emergency Bridge Loans are designed to help small business owners recover from a disaster like Hurricane Michael. There are a few additional things you need to know:
Bridge loans are interest free for the first year. If you have the wherewithal to repay the loan in that time, you will be able to do so without paying anything above the principle amount.
After one year, you will be charged an interest rate of 12% per year until the full balance due has been repaid.
You may only receive one Florida Small Business Emergency Bridge Loan at a time. Any previous loan must be repaid in full before you can apply for a new one.
You can make payments on your loan at any time after the loan is granted.
Other Disaster Recovery Programs
There are some other disaster recovery programs you may also want to check out. Here they are:
The U.S. Small Business Administration's Business Physical Disaster Loan Program was also activated after Hurricane Michael and is intended to help small business owners pay for repairs on their businesses. The filing deadline is December 10, 2018.
The U.S. Small Business Administration's Economic Injury Disaster Loan (EIDL) Program can help Florida business owners recover form economic losses following Hurricane Michael. The application deadline is July 11, 2019.
The Florida Division of Emergency Management has resources to help businesses recover from Hurricane Michael.
To learn how Gilmore Services can help you with disaster recovery, please click here.