How to Eliminate Costly Errors with Records and Information Management
Thu, Sep 27, 2018
By: Steve Clopton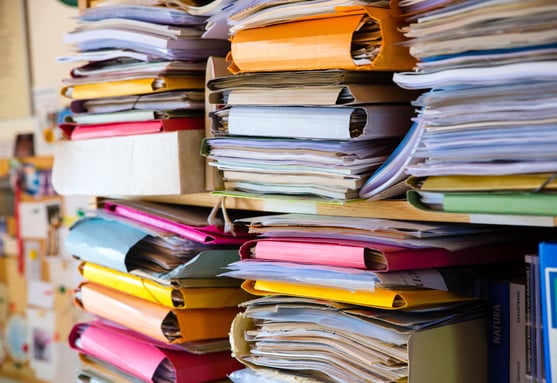 Records and Information Management, or RIM as we call it, is an essential part of keeping your valuable business records and data secure. It's not uncommon for companies to make mistakes when managing their records due to carelessness or inexperience.
At Gilmore Services, we use the highest possible standards when transporting, storing, and destroying our clients' records and information. We know that even a small error can be costly.
With that in mind, here are some tips to help you eliminate costly errors and ensure that your data is as secure as it can be.
Create a Document Retention and Destruction Schedule
The first thing you'll need to do is to create a document retention and destruction schedule. Depending on your industry and the kind of data you store, you may need to comply with some or all of the following:
HIPAA
The Sarbanes-Oxley Act
FACTA
If any of these apply to you, then you will need to take the regulations that govern them into consideration as you create your schedule. We recommend doing an audit of all data you are currently storing and noting what needs to be kept and how long you need to keep it. You can work from there to create your schedule.
Evaluate Your Document Storage
The next step is to evaluate your document storage system to determine if it is adequate and secure. Here are some questions to ask:
Are your documents protected from natural disasters like hurricanes and floods?
Who has access to your document storage? Are the documents stored on site, in the cloud, or a mix of the two?
Are important documents imaged or only available as hard copies? If the latter, you may want to consider imaging them, so you can store them in a secure cloud facility and quickly access what you need, when you need it.
Will you be able to quickly get to your most important documents if there's an emergency?
For many companies, storing documents on-site might seem like the best and most cost-efficient option. However, when you consider the potential downsides, you might want to consider paying for off-site storage in a secure location.
Find a RIM Partner
Whether you store a small or large amount of data, you should consider partnering with a RIM company to help you. The company should be NAID certified. A top RIM company will adhere to your specified schedule, dispose of all documents and hard drives in accordance with regulations, and send you a certificate of destruction when the documents have been destroyed.
At Gilmore Services, we provide off-site, secure, local document storage as well as records information management. We will work with you to create a proper record destruction schedule and we can destroy documents at your work site or in our secure facility. Either way, we will confirm their destruction, so you can prove that you've adhered to regulations.
Don't Forget to Destroy Sensitive Hardware
Paper documents and imaged documents are not the only things you need to destroy. You'll also need to think about how you plan to destroy hard drives, servers, and any other hardware that might be vulnerable if it fell into the wrong hands.
One of the most common mistakes we see is when companies try to destroy hardware without help. They make the mistake of thinking that smashing a hard drive with a hammer will protect their data, and we've heard of some companies ending up in trouble because a hard drive they thought was destroyed turned out to be vulnerable.
Conclusion
Even a small error can prove to be costly in the world of records and information management. While it might be tempting to handle your storage and document destruction in-house, the best way to avoid costly mistakes is to partner with a NAID certified RIM company to protect yourself.
To learn more about how Gilmore Services can help you manage, store, and destroy your data, please send us a message.