3 Reasons to Work With a Local Shredding Company
Tue, Dec 05, 2017
By: Steve Clopton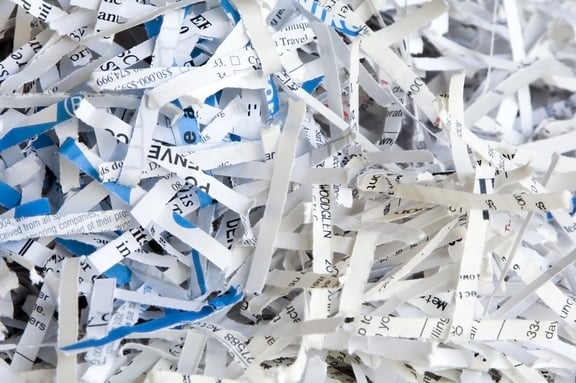 Why partner with a shredding company when you can just buy a shredder yourself? I mean, document destruction is as easy as grabbing some files, putting them through the shredder and calling it day, right? Well, not exactly.
Document retention and destruction becomes very complicated as your business grows, and without the aid of a professional service you run the risk of costly fines or, even worse, compromising sensitive information. For this reason and more, partnering with a local shredding company is a good way to cover all your bases and protect your business along the way.
Consider these three reasons to partner with a shredding company: confidentiality, compliance and convenience.
1. Confidentiality
Confidentiality should be of serious concern when it comes to sensitive records, and this should be reflected in any professional document destruction partnership. You want professionals to treat your sensitive information as if it were their own.
Expert quality and professional care during destruction is a must to ensure confidentiality. When partnering with an accredited document destruction service, you can count on secure transportation and protection of information during destruction. All documents should be GPS monitored for secure tracking and transported to a NAID AAA certified facility. A NAID AAA certification is proof of the highest quality document destruction service on the market and can only be achieved through rigorous security evaluations and unannounced audits.
2. Compliance
State and federal regulation necessitates timely destruction of documents to protect privacy and sensitive information. Adhering to document lifecycles is an important part of storing files, but due to day-to-day responsibilities, documents can slip through the cracks and cost you in fines.
The best way to avoid unnecessary infraction costs is to create and maintain document retention scheduling and depend on professionals for document disposal. Document destruction services come in several forms depending on your needs:
Onsite document destruction — NAID accredited professionals will come directly to your office for destruction of confidential materials.
Offsite document destruction — Regular document pickups by your document management partner will deliver files to be shredded to a secure facility.
Electronic media destruction — Merely throwing away hard drives does not ensure information stored within is destroyed. Follow Department of Defense regulations with professional hard drive destruction, and securely destroy information on cell phones, computers, CDs, or any other digital media.
No matter which option you choose, you will receive a certificate of destruction to serve as a document of compliance and the peace of mind that files were destroyed properly and on-time.
3. Convenience
Above all, partnering with a local shredding company is easy. As established above, there are a variety of document destruction options, so no matter what your business needs are, you can easily seek out local, professional shredding.
Gilmore Services' document and hard drive destruction services are compliant with data protection laws such as FACTA, HIPAA, and Sarbanes Oxley. Contact Gilmore Services for more information on professional destruction as well as other document management services such as retention scheduling, offsite document storage, digital conversion and many more.