Document Storage for Inclement Weather
Fri, Feb 11, 2022
By: Jim Beran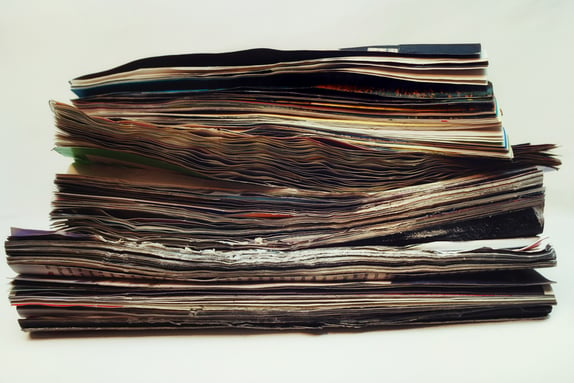 Dealing with inclement weather any time of year can be hectic, but knowing how to protect paper from weather conditions that can affect your operations is critical. Businesses that use document storage methods to keep paper records intact face an uphill battle, especially because certain conditions can damage those documents. Too much moisture, too much heat, and water damage are all factors to consider.
Document Scanning and Storage
Document scanning and storage protocols are useful when putting together a plan to protect paper from moisture conditions that may be out of your control. Having a dedicated facility that will regulate the amount of moisture coming in and out of the area is key. Document storage for moisture should all use snapshot devices that accurately indicate humidity levels, hygrothermographs that record the last known humidity levels and changes in temperature, and data loggers that continuously record preset information.
It is not easy creating a process that provides the best protection for paper that will keep it intact without sweating, crinkling, or altering the visibility of the content.
Proper Protection for Paper
How can you implement a good document scanning and document storage system? There are a few things you can do:
Watch moisture levels
Even if your stored paper looks dry, that may not be the case. There are different types of paper that may allow more moisture depending on how it's used. This can severely impact the quality of the print on the paper and may take more effort to keep it in good condition.
Keep the heat out
While there is a huge focus on the humidity levels of maintaining a good balance when dealing with storing paper, heat is a culprit too. Paper should not be placed in direct sunlight, which can cause it to fade, but too much heat will have an adverse effect on paper as well.
Packaging matters
Paper in its original package is designed to keep for a certain amount of time. Once that seal is broken and the paper is exposed, integrity becomes compromised. It's always best to keep paper in a controlled temperature where the levels of heat and humidity are closely monitored.
Keep things flat
Reams of paper should be stored flat as much as possible instead of standing up. This helps maintain the edges while preventing other damage. The paper should also be stored on standard shelving instead of wire shelving to ensure the paper is not compromised in the event of moisture or other inclement weather conditions that may affect the paper.


Contact Gilmore

Propershredding and storage protocols can be implemented with the right guidance. It's important to properly dispose of business documents, even if they have been affected by inclement weather. There are certain documents that are regulated by law that must have proper disposal protocols in place. Failure to comply can result in fees and other penalties that can be avoided by working with a document destruction company.
Do you need document destruction and shredding solutions? The team at Gilmore can help put together a plan that will protect your documents in inclement weather. For more information on our solutions, contact the team at Gilmore today!