Go Green: Reduce Waste with Document Shredding and Storage
Tue, Aug 17, 2021
By: Steve Clopton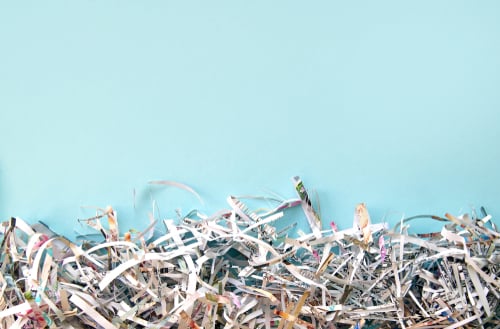 Shredding documents and then recycling them doesn't really help the environment when you can't send those documents to a recycling facility that handles tiny pieces of paper. When you shred paper, it shortens the fibers and makes the paper just about useless. However, because we at Gilmore have so many documents – bales of them every day – we send the shredded documents to a special recycling plant that is able to use these tiny pieces of paper to make other products.
If you don't do it correctly, identity thieves can still retrieve confidential information from your hard drives. Shredding hard drives ensures that no one can recover your sensitive data.
Document Shredding & Storage
Shredding and recycling documents and hard drives not only helps the environment, but it also keeps confidential information safe from prying eyes. Additionally, recycling hard drives can be a bit of a chore. Even drilling holes in hard drives does not mean that someone can't get ahold of your data. Formatting, degaussing, and other methods all leave something to be desired. We take your old digital media, format it, then send it through our shredders. We are then able to send the metal pieces to a recycler.
The ability to shred hard drives and other digital media means that document destruction and document storage have become easier. Metal and paper recycling makes it safe for the environment.
We provide locked shred boxes for documents. Once you no longer need a file and the client does not want it, simply put it into one of the locked shred boxes. We'll pick up the shred boxes and shred them in the truck right in your parking lot. We will also shred hard drives and give you a certificate of destruction with the hard drive serial number on it for your document retention and disposal records.
Document Destruction
Document scanning can make document destruction easier. Every office should have a retention schedule for files. As those files reach their retention times, they need to be properly disposed of. However, that can take a lot of time, especially if you are in the habit of going through your files once every year.
Instead, consider digital storage and scanning. If your office goes paperless, you scan a document as soon as you get it, then throw it in a locked shred box. There are cons to going digital – someone could erase a document by mistake or forget to scan something. This is why you create a double backup system. As you receive a document, scan it, then back up that file to a local removable hard drive. At the end of the day, back up the entire system to the cloud. You will have three copies of the document – one in the active file, one on a local backup, and one in the cloud.
This makes document shredding a breeze. You don't have to pay someone to shred documents page by page, and our shredder bales thousands of documents and sends them to a recycling center that is as secure as we are and that has a use for paper with short fibers. It's a win-win for everyone.
Contact Gilmore
When an office first goes digital, it has tons of documents to scan. In addition to shredding services, we also provide bulk scanning services. Once your documents have been scanned and backed up, Gilmore can shred the documents for you. We can also send out our truck to your place of business to shred documents on a schedule. Contact Gilmore to discuss your shredding requirements.