Document Overload? 4 Signs You Need to Call a Shredding Service
Mon, May 20, 2019
By: Jim Beran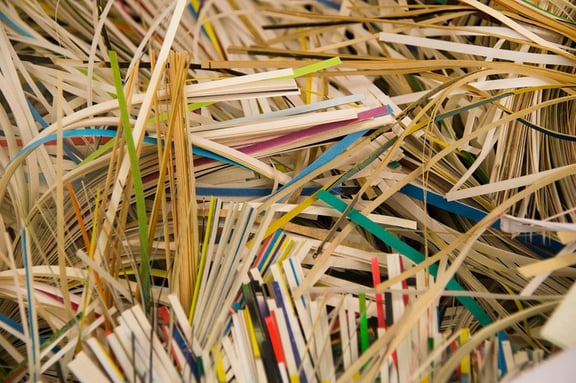 Documents are important to every business. Whether you're storing client contracts, printing invoices, or filing your taxes, you need to maintain accurate records and ensure that you and your employees have what you need to make your company a success.
But what happens when you have more documents that you know what to do with? At Gilmore Services, we talk to a lot of business owners who experience document overload, but simply don't have the time to control the compounding issue.
If that sounds familiar, here are 4 clear signs that you need to hire a shredding service to reduce your document overload now.
#1: You're Shredding Sensitive Documents In-House
It's common for small businesses to shred documents in their offices to save money. However, there are significant risks associated with doing so.
When you do your own shredding, you may risk:
Missing the scheduled destruction of documents and violating regulatory requirements
Improperly destroying documents that may be stolen or compromised
Using valuable employee time (and salaries) that could be better spent elsewhere
It's always preferable to outsource your shredding to a NAID-certified and Downstream Data Covered company like Gilmore Services. We have the expertise to handle and destroy your documents properly.
#2: You Must Adhere to Regulations about Document Destruction
Perhaps the most compelling reason to partner with an experienced shredding service is to ensure compliance with federal regulations. If your company is bound by FACTA, HIPAA, or Sarbanes-Oxley rules, it's essential to have a proper schedule for document storage, destruction, and security.
If you fail to comply with regulations, your company could be fined. At the same time, you'll be putting your clients' sensitive information in danger. That's simply not a risk worth taking – and it's easily solved by hiring a shredding service to help you.
#3: You Don't Have Secure Storage for Documents to be Shredded
If you do your own shredding, you probably have documents piled up waiting to be shredded. It's common for employees to put off shredding in favor of what they view as more pressing work. The documents to be shredded are often left unsecured and may even be misplaced.
Partnering with a shredding service ensures that you'll have a place to put your documents. For example, at Gilmore Services we provide our on-site shredding clients with secure shredding bins to place in their offices. That way, the documents are safe until we visit and shred them. We do the same thing for clients who prefer off-site shredding.
#4: Shredding Documents Isn't a Priority
Perhaps your company doesn't store documents that require you to stick to a strict document destruction schedule. That means you can skip the step of hiring a shredding service, right?
The short answer is no. Even documents that don't fall under federal or state regulations must be stored securely and disposed of properly. Improper destruction of documents can contribute to data breaches and erode your clients' trust in you.
We know that sometimes, shredding gets put off because employees are busy with other things. They tell themselves that shredding can wait because it's an add-on to their regular job responsibilities. In some cases, we've seen companies fall months or even years behind until they're buried in paper.
Hiring a shredding service will ensure that document destruction is a priority. We'll work with you to create a document destruction schedule that works for you and your employees – and we'll streamline the process to make it easy for you to focus on other aspects of your business.
Conclusion
Document shredding shouldn't be an afterthought. It's crucial to the successful operation of your business and your clients' trust in you.
Click here to learn how Gilmore Services can help you create a shredding schedule for your company.