Dangers of Being Careless About Document Shredding
Wed, Apr 26, 2017
By: Steve Clopton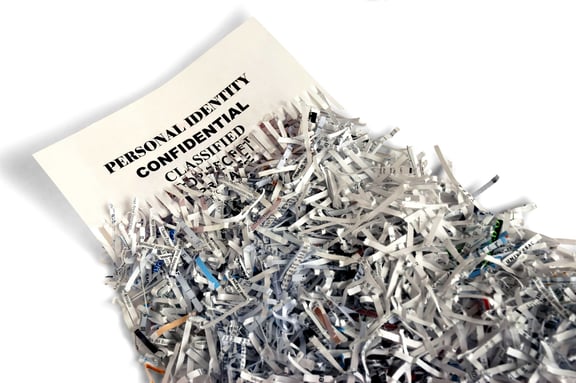 Whether you operate a small, single-physician family practice or are an administrator in a large hospital, records management is one of your primary responsibilities. Efficient records management is critical, not only for day-to-day operations but—most critically—for patient confidentiality and compliance with federal mandates like HIPAA.
You probably already have a records storage system in place but ensuring secure document destruction is a critical piece of the records management puzzle. If you've been handling records and document destruction in-house, you're not only wasting valuable staff time, but could also compromise compliance. Partnering with a professional document destruction company, on the other hand, ensures your records are handled with the highest level of confidentiality.
Let's look at why you need to add professional document destruction to your medical office's document management program.
Ensure patient confidentiality
Unlike in-house shredding, professional shredding leaves little room for error. Document destruction services deliver secure shredding bins to your office, where medical staff can safely dispose of sensitive documents like patient records. Those files then get destroyed on a regular schedule either at your office or offsite.
On-site shredding services ensure information never leaves the premises before being destroyed. With off-site document shredding, all information leaves your business in a GPS-monitored vehicle for secure tracking.
You can be certain of compliant records retention when you receive a certificate of destruction from your professional shredding partner. These certificates are issued as a guarantee of compliance with all applicable federal and state guidelines related to the proper handling of sensitive information.
Prioritize organization and patient care
The job responsibilities of your administrative staff likely stretch far beyond document shredding. In-patient processing, records management, and billing are just a few other key tasks. Why not free up needed time to devote to these tasks by partnering with a professional document destruction company?
Staff tasked with handling document destruction do so at the expense of their regular responsibilities, taking a toll on performance and patient care. However, with certified document destruction, your employees can focus on their true responsibilities without worrying about whether sensitive patient information has been compromised.
What's more, an on-site document destruction service brings shredding to you on a regular schedule, helping you streamline your processes and focus on patients.
Save money
Sure, you can buy a consumer-grade shredder for less than $100, and you might consider that a bargain. But if you shred consistently, the costs associated with in-house shredding quickly add up. After just a few months, the cost of labor and maintenance can easily rival that of working with a professional shredding service.
Cost-effective and convenient professional document shredding services ensure compliance with document disposal regulatory guidelines, enhance security and maximize resources, so you can focus on caring for your patients.
Learn more about how Gilmore Services can provide document shredding for your medical office through our experienced and NAID certified shredding services by downloading our secure shredding bins guide to discover which is right for your facility. Have questions? We're here to help, simply contact our shredding experts today.