Do You Really Know Where Your Business Records Are Stored?
Wed, Feb 08, 2017
By: Steve Clopton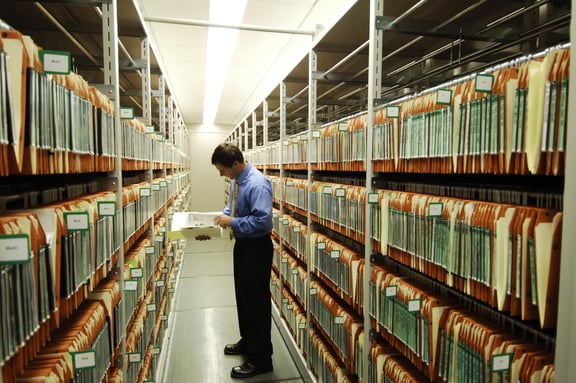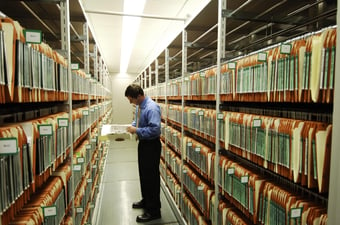 As a business owner or manager, knowing the location and security of important business records should be a top priority. Not knowing where and how your critical documents are stored risks identity theft, compliance fines and damage to your company's reputation.
If you are informed of your company's records storage system, how's it working? Putting up with inefficiencies like digging through filing cabinets or leaving outdated records in storage indefinitely might mean it's time to take a closer look at your processes and aim for improvement.
Luckily, the new year is a great time to evaluate how you're handling records storage. Let's take a look at signs of an inefficient system and how you can make changes to better manage your document storage in 2017.
Signs of Inefficient Records Management
When you first decided to store your records in-house, it probably seemed like an affordable and convenient way to manage your documents. But as your business grows and the records pile up, in-house storage quickly becomes an inefficient strategy, especially if you've lost track of how and where records are stored.
When it comes time to find key documents, moving heavy boxes around an already crowded office or rummaging through filing cabinets wastes valuable staff resources and money.
Even if you've moved documents off-site to a storage unit, do you know how those files are organized and how to access them when you need to? Chances are, you no longer need many of the documents that have reached the end of their lifecycle, so wasting value money on a storage unit doesn't make much business sense.
Streamline Records Management with Professional Document Storage
If you recognize the signs of inefficient records management, contacting a professional document storage service is a great next step.
Professional document storage increases efficiency with a number of key services, including easy access through barcode scanning and the option to convert documents to digital files. Many full-service document storage companies also provide retention scheduling services to keep you compliant with the latest federal and state mandates. Retention services ensure that once information has reached the end of its useful lifespan, your document storage partner will safely destroy it.
After moving records to secure offsite storage, you can replace space-consuming filing cabinets with workstations or better allocate the financial resources you've spent on storage units. You'll also increase security over sensitive information and enhance your compliance needs.
Professional document storage ensures 24-hour security with video surveillance, environmental controls and immediate generator back up to protect against theft, temperature spikes, humidity, water damage and other concerns.
Professional document storage partners like our team at Gilmore Services offer enhanced service at high value when compared to self-storage options and can save businesses money over time. In fact, all of these benefits above can be realized for less than the cost of a cup of coffee per day to store up to 100 boxes of records. Learn more about the right storage solutions for your business in our free comparison checklist below.