Big or Small, All Medical Practices Must Comply with HIPAA
Wed, Dec 17, 2014
By: Jim Beran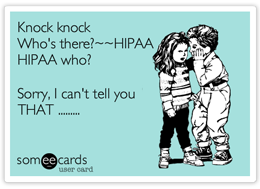 Without fail, every year we see news headlines announcing major fines for an organization's noncompliance.
When it comes to the healthcare industry, the major compliance requirement is the Health Insurance Portability and Accountability Act of 1996, or HIPAA, which addresses the security and privacy of health data and protects against the sharing of information considered to be Protected Health Information (PHI).
As medical professionals know, violations can result in civil and criminal penalties with huge fines attached.
One misconception is that HIPAA compliance is more severe for large medical practices and hospitals. While it's true that a larger practice might house more patient information, the rules apply to any organization, big or small, that handles protected health information.
Do you meet the requirements?
Protecting sensitive information comes in many forms. True HIPAA compliance means covering all of the required measures for securing patient information. Some important policies to have in place to remain HIPAA complaint include physical safeguards like a secure facilities, technical safeguards such as authorized access, technical policies like a disaster recovery plan and network security like security over digital information.
How a records management company is your compliance partner
Being tasked with remaining compliant can be a chore for a practice manager to execute alone. For added security, working with a records management company can simplify the process with:
By outsourcing secure information services, important data is protected, destroyed or backed up in accordance with industry standards. Go into the New Year with confidence that your medical practice is HIPAA compliant, and learn if your document management plan is a sham. Have more questions? Our NAID Certified records management company is here to answer your questions.