3 Ways to Get Up to Speed on Document Imaging Services for Your Business
Wed, Jan 20, 2016
By: Jim Beran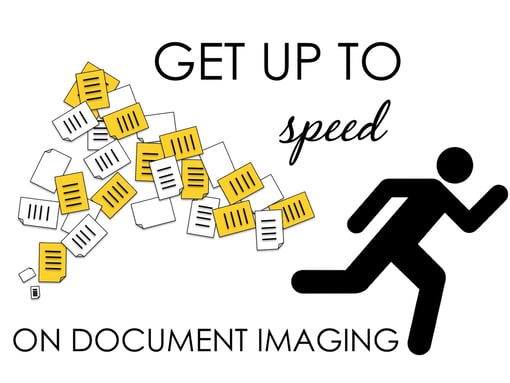 I recently finished watching Marvel's "The Flash" on Netflix. For anyone who doesn't know the basis of the story, it begins with a man-turned-superhero who receives the power of super speed after a freak lightning strike.
It's crazy to think of a supernatural human who can accomplish tasks in the blink of an eye. Just think, if you had these powers, everyday records management assignments could be completed well before lunch. Imagine all of the time that would be available to channel toward more demanding job responsibilities.
While we haven't seen evidence of the supernatural, the strides in technology we see today are, in a way, our very own superpowers. Technology is one of our greatest resources, allowing us access to endless amounts of information, and making it possible to convert paper records into digital files. It even holds the answers to all those pesky business records management you face, like are document scanning services right for your business, and how can you get up to speed on converting paper records into digital files this year? Here are three ways to get started:
1.) Research
With last year's workload squared away, now is the time to focus on new annual business objectives, such as implementing document imaging services. To begin this process, lay out your records management goals and research document imaging solutions that align best with your plan. After all, properly managing business records is vital to the success of every business.
2.) Organize
Once you have found the plan that fits all of your requirements, the next step is organizing your files. Although it may be an overwhelming chore, start organizing your document in increments to accomplish this fundamental step. Not only will this help achieve your scanning objectives, it will set a process to streamline future file conversion projects.
3.) Take action
You've done your research and organized all of your business documents, now what? It's time to put your plan into action. Depending on the size of your business, you may decide to keep your records imaging process in house. On the other hand, to outsource this process, consider reaching out to a certified records management company to discuss options for streamlined, professional scanning services.
Don't let the lack of super speed hinder you from succeeding in your records management tasks this year. Take these three steps to get up to speed on your document imaging services. Ready to learn more about records management services for your business? Contact us today and download our free guide below.