4 Tips for Tackling Document & Media Destruction
Tue, Jan 22, 2019
By: Jim Beran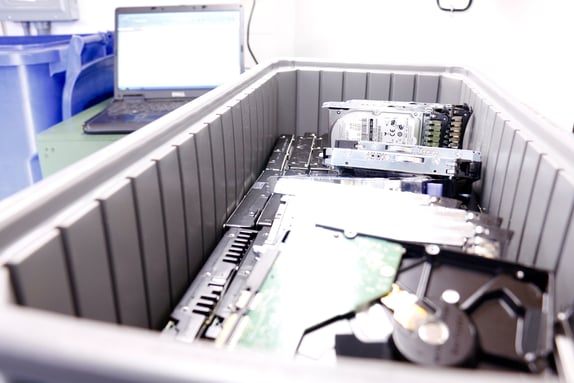 When they are kept too long or stored insecurely, your business documents and media can become more of a liability than an asset. In fact, improper destruction of data is a common mistake and it can be a costly one.
At Gilmore Services, we have years of experiencing destroying documents and media safely and securely. With that in mind, here are 4 tips to help you tackle document and media destruction in the new year.
#1: Understand the Regulatory Requirements That Apply to Your Business
The first step for proper document and media destruction in 2019 is understanding what you need to store, how long you need to store it, and which precautions you are required to take under federal and state laws.
For example, if you store medical information on behalf of patients or clients, you must comply with HIPAA regulations. If you store credit card information, then you should review FACTA regulations to ensure that you are in compliance.
#2: Label All Documents and Media Properly
The next step is to review the documents and media you are currently storing and, if necessary, label everything to help you create a document and media destruction schedule.
Ideally, you should label everything with the date the documents are from as well as the date that it's scheduled for destruction. Then, all boxes and media should be organized in such a way that you can easily find documents that need to be destroyed.
Keep in mind that a document management specialist like Gilmore Services can assist you with this part of the process by scanning documents and indexing them electronically to ensure that you stay in compliance with regulations.
#3: Choose Offsite or Onsite Document Shredding for Paper Documents
Whether you store important documents onsite or offsite with a document management company, you'll need to arrange to have the documents shredded when the time comes. One mistake that companies sometimes make is assuming that a garden variety shredder bought at an office supply store is enough to get the job done.
A better option is to partner with a professional shredding service. At Gilmore Services, we offer both onsite shredding for clients who have documents to be shredded in their offices, and offsite shredding. We offer secure transportation and tracking, as well as certification that your documents have been destroyed.
#4: Properly Destroy Media and Hard Drives
The final step you need to take is to arrange for your hard drives and other media to be destroyed. DIY destruction might seem like a good idea, but it's unlikely that you'll be able to render your media inaccessible using these methods.
At Gilmore Services, we are NAID certified and use methods that adhere to Department of Defense Standards for media destruction. We'll collect your hard drives and media and put them through a process that will ensure that no criminal can access your customers' data.
Keep in mind that smashing a hard drive or thumb drive does not ensure that the data on it is safe. Criminals are more sophisticated than that. To be in compliance with all HIPAA, FACTA, and Sarbanes-Oxley regulations, you must partner with a professional data destruction company.
Conclusion
2019 is rapidly approaching. If you have not already reviewed your company's regulatory obligations and created a bulletproof data destruction schedule, now is the time to do it. Failure to destroy data properly can cost your business money and also negatively impact your reputation and the trust you've earned from your clients.
To learn about Gilmore Services' media hard drive destruction services, please click here now.