How Much Could You Save by Hiring a Moving Company?
Wed, Apr 03, 2019
By: Patrina Sykes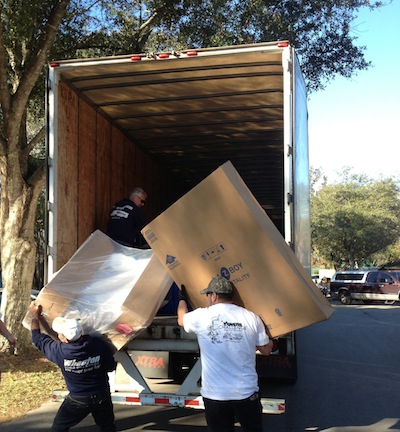 Moving is a time-consuming endeavor. Whether you do the move yourself or hire movers to handle it for you, there are decisions to be made, belongings to be packed, and services to be canceled and arranged.
As a moving and storage company, Gilmore Services provides top-notch moving services to our clients. People sometimes ask us why they should pay movers when they can handle the move themselves.
Our answer? In many cases, hiring a moving company is less expensive – when everything is taken into consideration. Here's what you need to know.
The Hidden Costs of DIY Moving
When deciding whether to hire a moving company, it's easy to make a cost comparison by looking at the moving company's fees and comparing them to what you'll charge yourself – which is nothing.
The problem with that approach is that it fails to take the hidden costs of DIY moving into account. Here are the things you should consider before deciding to undertake a DIY move.
DIY moving is not free unless you have no personal belongings to move. You'll need to pay for a rental truck and insurance. You may also need to buy packing materials to protect your belongings on the way to your new location.
Even if you own a large truck or have a group of friends willing to help you transport your belongings, you'll still need to pay for gas for your vehicle.
Moving on your own means that you'll need to do the physical labor to get your belongings out of your existing home or office and into the truck – and then move them into your new location.
If you run into traffic or vehicular problems, your move could be delayed. Professional moving companies have a fleet of trucks available and can move on your schedule.
In our experience, DIY movers tend to undervalue their time and energy. It can take inexperienced movers more than twice as long to do what professionals do. It's important to keep that in mind.
The Risks of DIY Moving
In addition to the hidden costs of DIY moving, there are additional risks that could add to your expenses if you're not careful.
Let's start with the risks associated with personal moves. The chances are good that you own some fragile things that require special care during a move. If you handle the move yourself, you run the risk of breaking or damaging them.
Of course, breaks can still occur with professional movers – but they're less likely and you'll have some recourse if that happens.
If you're moving a business, you'll need to think about the skill and strength required to move heavy machinery and equipment as well as expensive computers and other hardware. A professional moving company with experience moving office equipment will know how to handle these items without damaging them.
Even more importantly, a moving company that's NAID certified like Gilmore Services will know the regulations for handling sensitive data, including medical records and credit card information, to ensure that you stay in compliance with necessary regulations.
How Much Will You Save by Hiring a Moving Company?
There are a lot of variables involved in calculating how much you can save by hiring a moving company. Your time is valuable. A cross-town move from one apartment to another is going to be less costly than moving a large home or a big office.
That said, you can save anywhere from hundreds to thousands of dollars by hiring professional movers. Your move will go more quickly and professionally than it would if you handled it yourself and you'll have the peace of mind of knowing your belongings are in good hands.
Conclusion
Moving is hard work – and it can also be expensive work. Hiring a moving company can help you avoid unnecessary stress and expenses, so you can focus on other things.
To learn more about hiring Gilmore Services to help with your next move, please click here.