It Pays to Be Prepared: Developing Your Business Disaster Recovery Plan
Wed, Apr 06, 2016
By: Jim Beran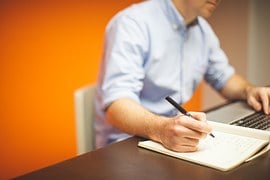 There are plenty of situations that can arise in business where proper preparation makes it possible to successfully meet the challenge and overcome it.
An unexpected rise in the price of materials? The sudden resignation of a key employee? You will make it work.
But what about a hurricane, a flood, or catastrophic power outage? Those type of natural disasters are truly out of your hands, and the repercussions can be nearly impossible to prepare for.
One thing you can do to have safeguards in place for the unexpected is to develop a business Disaster Recovery Plan.
What is a disaster recovery plan?
A disaster recovery plan is a formal document and process outlining exactly what arrangements have been made to continue or duplicate critical business functions after a disaster so that the company can continue serving customers with as little disruption as possible.
How do you create a disaster recovery plan?
The plan varies greatly from one business to the next, because it must start with answering questions that are unique to your specific company:
What business functions are absolutely vital to continuing to serve customers and fulfill obligations, and which functions are optional?
Which customers/segments must be brought back online first if it's not possible to achieve 100% immediately?
What data, records, and technology must be available for business activity to resume?
These are some of the core questions that will form the basis of your disaster recovery plan. Essentially, you want to identify what it would take to resume an acceptable level of business as quickly as possible under disaster conditions.
What kinds of disasters should you plan for?
To realistically limit the scope of the plan, you should focus on whichever circumstances are most likely to affect your company.
For example, a company located near the coast, like our neighbors in Pensacola, should certainly plan for the possibility of a major hurricane causing damage. Other common weather events should be considered. In fact, just last month we experienced a tornado in the area that caused major damage, and even demolished, dozens of homes and businesses. Other potential disasters that should probably be part of every business's plan are:
Epidemic disease affecting a large portion of your workforce
Catastrophic mechanical system failure at your facility (HVAC, electrical, plumbing, etc.)
Major disruptive accident (a car crashing through the front door, or a furnace exploding)
Electronic data security breach/hacking
What measures should you put in place so you can carry out your disaster recovery plan?
Depending on what kind of work you do and what your plan identifies as absolutely essential to carrying that work out, you may need to consider any or all of the following measures:
Obtaining a secondary location sufficient to serve as a temporary headquarters if your main facility is compromised.
Obtaining a minimum number of workstations, telecommunications units, and other technology basics to support whatever staff needs to utilize the secondary location.
Arranging for quick and safe moving of vulnerable equipment, vehicles, and other costly supplies to a more secure location should there be enough warning time prior to the disaster.
Arranging for offsite document storage for physical and digital business records where recovery and retrieval can be quick and painless. (Make sure your document storage partner has a business disaster recovery plan of their own, and that your records will be secure in their hands in the case of an emergency.)
Pre-planning set communications protocols so you and your team will be able to touch base even if you can't get together physically due to circumstances.
With these tips in mind, it is possible for a business to successfully survive an unexpected disaster and recover quickly, with a minimum of disruption for customers or lost revenue. It truly does pay to be prepared. To find out more about designing a disaster recovery plan, contact our experienced and trusted records management company and download our free guide below.