How Are Your Scanning and Storage Handled in These Winter Months?
Wed, Dec 07, 2022
By: Steve Clopton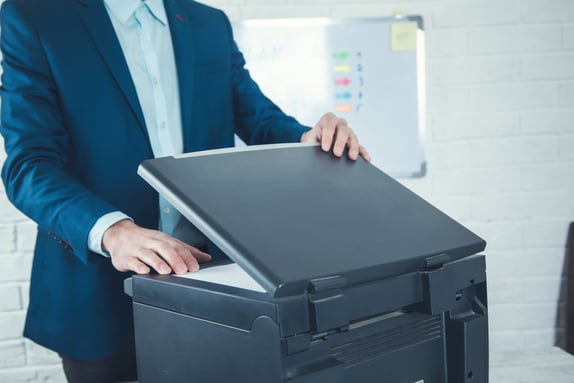 While it's a good practice to have a retention schedule and get rid of documents at the end of their retention time, storing documents where they can be damaged by storms, could damage them to the point they are useless. Whether you are a business or an individual, you should keep copies of your documents – either with a third party or scanned onto an external hard drive that you can lock up and take with you should your business flood.
Damaging Weather
In addition to the paper copy you keep in the office, you should have another paper copy of important documents, such as vital records, stored in another location, whether in a document storage facility or a safe deposit box at a local bank. The third party you use depends on the number of documents you have to safeguard.
You can also scan the documents to your computer, plus save a backup to an external hard drive and another backup in a secure cloud account.
Documents to Protect
The documents you should protect include wills, trusts, tax records and receipts for major purchases, among other important documents if you are an individual. Businesses have many more documents to store, including business documents, tax documents, employee records, invoices, accounts receivable documents, accounts payable documents, and more.
Scanning and Storage at Gilmore
Gilmore offers scanning and storage solutions to keep your important documents and client files safe from theft, hacking, weather and more. Our document storage facility is climate controlled to keep your documents from molding and suffering other destruction caused by the weather.
While you could scan your own documents, it's a good idea to have the documents scanned and stored at a second location. If something does happen to all of your backups, you'll be able to access the documents at any time.
Contact Gilmore
Gilmore provides shredding, storing and scanning services so that you can keep your documents secure from thieves, hackers, and the weather. We can scan your documents, have a retention schedule for them, and store physical documents in our secure, climate-controlled document storage warehouse.
Once the document reaches the end of its retention period, we can scan them for you. At the same time, we can come to your home or office to shred the documents you have kept for the past year or longer that have reached the end of their retention time.
We can bring our shred truck to you once or twice per year, or if you have a business that has a lot of physical documents, we can come to your business as often as you need. We can also supply locked shed boxes to make shredding more convenient – we come to your office, wheel the shred boxes out, dump them in the truck, hand you a certificate of destruction, and we're done!
Contact Gilmore today to learn more about document retention, extra document storage, and shredding services.