Hire Local Movers to Avoid These Top Moving Mistakes
Tue, May 26, 2020
By: Patrina Sykes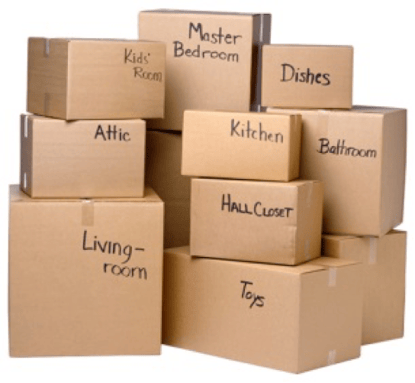 Even when everything goes smoothly, moving can be stressful. It becomes more so when something doesn't go as planned, or when you inadvertently make a mistake that costs you time or money.
At Gilmore Services, we have decades of experience moving families and businesses in the Pensacola area. We pride ourselves on being local movers who understand the area and provide top quality service to our clients.
To avoid the most common moving mistakes, it's important to hire local movers with a good reputation. Here are some of the top moving mistakes we see – and some information about how hiring locally can help you steer clear of them.
Not Having Proper Packing Materials
One of the most common moving mistakes people make is underestimating the amount and type of packing materials they need to complete their move. They may end up with too few boxes, not enough packing tape or bubble wrap, or the wrong kinds of materials to protect their breakable and valuable belongings.
Local movers can help with this problem because they're more likely to have the time to talk you through your move, asking questions about your belongings, your home, and your needs. At Gilmore Services, we sell a full line of packing materials and we can help you figure out what you need.
Waiting Too Long to Pack
Another common mistake people make when moving is waiting too long to begin packing their belongings. In our experience, packing always takes longer than you think it will, and it's easy to become overwhelmed and frazzled as your moving date draws near.
Local movers often offer affordable packing services to their clients. Gilmore Services has full-service packing, crating, and unpacking services to help you get ready for your move. We have the expertise to pack oddly shaped and fragile items to ensure they arrive at your new home in good condition.
Not Checking References
It may be tempting to hire a big national moving company because you recognize their name and see their commercials on television. However, a well-known brand doesn't always translate to the best service – and that can cost you time and money during your move.
By contrast, local movers can't survive without delivering stellar service, and customer reviews and word-of-mouth recommendation are essential to them. Gilmore Services is always happy to provide references – and we fully expect potential moving clients to check them and verify that we can provide the level of service we promise.
Paying Hidden Fees
You should read any contract before signing it, but a lot of people make the mistake of assuming that a moving contract is simple, and they don't need to read the fine print.
Local moving companies are more likely to take the time to go through the moving contract with you, answering your questions and making sure you understand the provisions before you sign. At Gilmore Services, you won't find any hidden fees – and you can be sure that we'll do what we say we will.
Not Accounting for Time Restrictions
If you are moving into or out of a big building, you may have only a limited time to use certain resources, such as a freight elevator or designated parking space. It's important to choose a moving company that will work within the parameters you specify.
Local movers are less likely to be late for your move because they have a short distance to travel to get to you. At Gilmore Services, we always ask about any restrictions , so we can be sure to meet our clients' needs and complete their move in the time allowed.
Conclusion
Local movers may not have the brand recognition of national moving companies, but they offer a level of personalized service and attention that can help you avoid the top moving mistakes and get settled into your new home or office with a minimum of stress and anxiety.
Planning your next move? Click here to learn how Gilmore Services can help.