The Small Businesses Guide to Document Scanning and Storage
Wed, Sep 08, 2021
By: Jacob Gilmore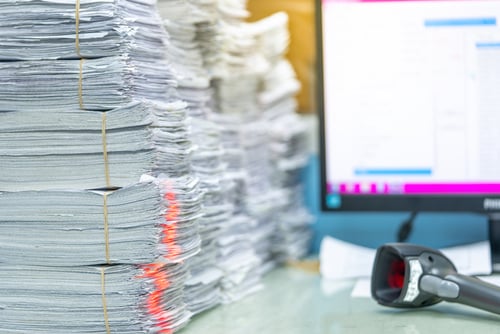 Trusting a company to handle scanning your records, whether they are your HR records or your clients' files, is a big step for some businesses. When it comes to scanning and storage, you want to make sure that the company you choose scans every document and that the document storage facility is secure.
Gilmore was founded in 1955, so our company has many years of handling secure documents. Over the years, we have kept up with technology and added scanning and document storage services to our shredding services. Our company has several accreditations, including the Better Business Bureau, AAA NAID Certification, and several more.
What is Document Scanning?
Gilmore provides document scanning services and secure document storage so that you can use the space you used to store documents for more employee real estate. When we scan your documents, you get easy access to your files, records management with barcode technology, emergency retrieval and vaulted data storage, and more.
Additionally, our knowledgeable team helps you reduce your storage costs by storing your hard copies for you – if you choose to keep hard copies. You don't have to worry about data security since the files are in our secure document storage facility.
Because your documents are scanned to a secure cloud server, you have access to them 24 hours per day, seven days per week. You also save room on your server's hard drive since you don't store all the scanned files.
You can also increase document security by password-protecting individual files. For example, you can place your HR files as subfolders in the main folder. Only your HR department should receive the password for the main HR file. If you protect the subfolders with their own passwords, you can also restrict that data to only those who need it.
Lawyers who use our services can also restrict case files to only those who are working on the case. This provides an added level of security, especially for firms with more than one or two attorneys and paralegals for each attorney.
Storing Scanned Documents
If you feel more comfortable having hard copies of your documents, we can store them in our secure document storage facility. While we do implement redundant technology, we are still dealing with computers. Should something happen, you will have a physical backup of your files.
When you use our secure document storage, you have even more data security. You don't have to worry about prying eyes making their way into your file room, and you don't have to worry about Mother Nature wreaking havoc on your building or a tenant upstairs flooding the floor and destroying your physical documents.
Additionally, if you have a retention schedule for your documents, you can let us know which files have exceeded the retention date, and we can pull those files and shred them if your clients do not want the files.
When you combine our secure scanning and storage solutions with our shredding solutions, you significantly minimize data breaches. You will also receive a certificate of destruction whether we shred your files from our secure storage or your office.
Contact Gilmore
If you are ready to kick your data security up a notch or three, contact Gilmore to discuss your scanning, storage, and shredding needs. Our professional staff will help you determine the best services for you and will help you set up a document management system.