Why You Don't Have To Go Paperless to Use Document Scanning Services
Wed, Dec 16, 2015
By: Jim Beran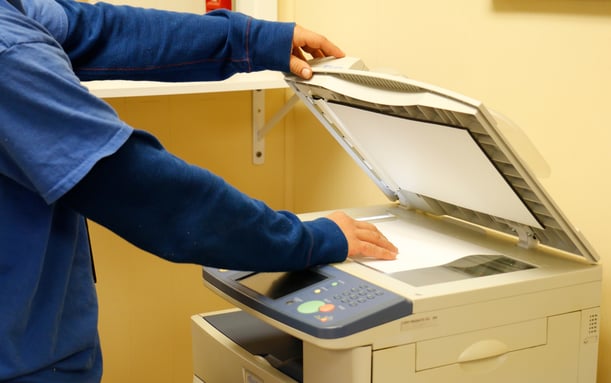 Going paperless does not necessarily mean completely eliminating the use of paper. It sounds a bit backwards, right? Instead, document scanning is an option that can allow you to expand the use of individual documents simply by converting them into digital files. Imagine high priority documents that, instead of being passed around, can be easily accessed by a computer.
With technology becoming more prevalent in professional environments, now is the perfect time to understand how to leverage the benefits of document scanning.
Of course, hard copy records have their place in a business setting, and the good news is that companies don't have to choose only one way to manage their documents. Now, businesses can take advantage of a hybrid of both physical and electronic versions of their important records. Here are just a few reasons why you don't have to go completely paperless to use document scanning services:
Plan Before You Scan
Going paperless is a process, so it's important to plan accordingly. A few first steps to consider are to take inventory of your records, decide which documents need to be scanned electronically, securely stored, or shredded. Once you have your documents categorized for scanning, storing or shredding, it's important to create a routine scanning schedule to remain organized. Taking these initial steps can relieve your office of time wasted searching for records and help unclutter insignificant or outdated documents from those overflowing filing cabinets.
Scan by Priority
After all your physical copies are organized and categorized, scan the most important and frequently accessed documents first. Document scanning is ideal for files that are accessed regularly or needed by multiple employees. Having key internal documents easily accessible electronically can streamline your business's workflow and cut down on paper waste.
Better Scanned than Sorry
Depending on the industry, many businesses are required by law to keep records for a designated amount of years. Whether you keep the physical files in-house or at an off-site document storage facility, document scanning offers an added layer of protection for your sensitive information. In the event your office is affected by a natural disaster or an internal incident that would destroy your documents, having scanned copies is a wise back-up option.
There are many benefits of incorporating document scanning to cut down on paper, organize your records, and protect your business, but just like Rome, it can't be completed in a day. If you are contemplating your records management options, document scanning may be the right solution for you. If you have more questions, our experienced records management team is here to help.