What to Expect from Professional Document Management Services
Wed, Nov 14, 2018
By: Steve Clopton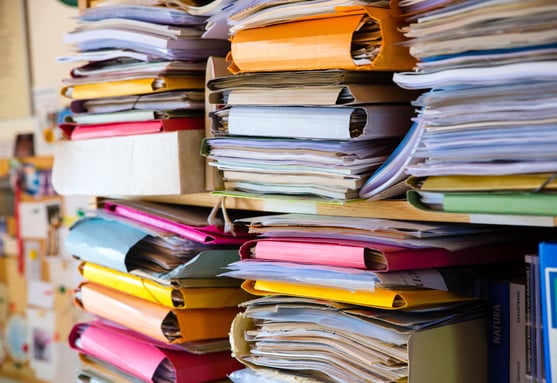 Properly indexing, storing, and destroying documents according to regulations can be a time-consuming task. Many companies struggle to keep up, and yet, the cost of improperly storing and destroying documents can be astronomical.
Partnering with a company that provides professional document management services is the best way to ensure that your documents are safe, secure, and in good condition. The right company can help you set up a document retention and destruction schedule that will provide your clients with the security and privacy they need. Here's what you should expect from a document management company.
#1: Easy Inventory Management
The data you store may still be data you need. That's why you should partner with a document management company that can provide you with access to your files at all times. For example, at Gilmore Services, we provide our clients with access using barcode technology, so they can easily find what they need.
We use a Cloud Document Storage System that provides our clients with 24/7 online access to their documents. That means you won't need to visit our storage facility to get what you need.
#2: Secure and Environmentally Controlled Storage
The facility where your documents are stored must be secure to protect you and your clients from a costly data breach. You should expect your document management company to secure your data both physically and digitally.
Storing documents in Florida comes with some special challenges. The heat and humidity can wreak havoc with paper. If you plan to store original documents, look for a company that provides environmentally controlled storage.
On a related note, choose a company that will help you with your disaster recovery plan. Florida experiences regular hurricane activity and flooding. It's important to have the peace of mind of knowing that your documents are protected and can be recovered if necessary. At Gilmore Services, we provide priority disaster recovery service and discounted rates to our existing document management clients.
#3: Insurance Coverage
At Gilmore Services, we include Downstream Data insurance to our clients as part of our service. Only companies with a NAID certification can qualify for Downstream Data. It provides our clients with:
Coverage of data breach notifications up to the policy limit
Professional liability coverage to protect you and your data
We include Downstream Data at no extra cost. Not every document management service offers insurance to its clients, but we feel it's an important thing to do.
#4: Records Retention and Destruction Scheduling
Arguably the most important part of document management is ensuring that the retention and destruction of all documents is within the guidelines laid out by regulations like HIPAA, FACTA, and the Sarbanes-Oxley Act.
The company you choose should work with you to properly index and store records, so that you are in compliance with document retention requirements. At the same time, it should help you with timely document destruction.
#5: Tracking of Document Destruction
When you hand over documents for destruction, it's essential to have a way to verify that they are properly handling. One way to do that is to partner with a company that has GPS tracking on its trucks. At Gilmore Services, our trucks are all equipped with GPS, so you can be sure that you know where your documents are once you turn them over to us.
#6: Knowledgeable and Trustworthy Staff
Finally, the staff of your document management service should be background-checked, experienced, and knowledgeable. You may have questions about the way your documents are being imaged, stored, and destroyed. You should be confident that you can get the answers you need.
At Gilmore Services, we conduct thorough background checks of all of our employees. We also provide thorough training, so that our clients know they can get the assistance they need at any time.
Conclusion
Document management services are key to keeping your business healthy and building trust with your clients. Having high expectations will ensure that you partner with the right company.
To learn more about our document management services, please click here now.