Gilmore Services Gives Back and Gives Kids The World
Tue, Feb 04, 2014
By: Jacob Gilmore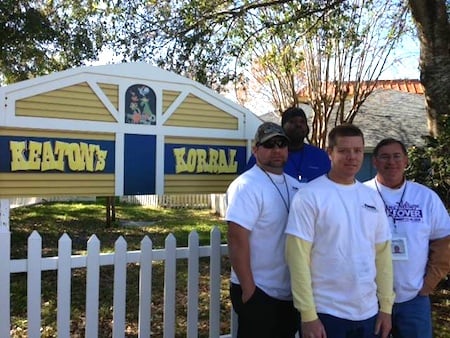 Beginning as a family-owned moving company nearly 60 years ago, Gilmore Services has seen how some things change and some things stay the same. Although the company has evolved into a resource for records management, secure document shredding, document scanning and commercial warehousing, the moving division remains.
Still family-owned, Gilmore Services knows success is only possible with a strong team and satisfied customers. As a Wheaton Moving Agent, the company has enjoyed opportunities to give back and volunteer over the years.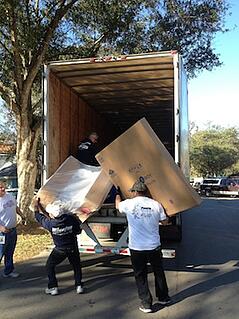 One organization valued by the company is Give Kids The World, a 70-acre nonprofit "storybook" resort, located near Central Florida's most beloved attractions, where children with life-threatening illnesses and their families are treated to week long, cost-free fantasy vacations.
Last month, Company President Ronnie Gilmore along with, Tiny, Clayton and Steve from the Moving & Shredding divisions graciously volunteered their time and energy to help with the Give the Kids the World "Extreme Village Makeover" in Kissimmee, Florida. The makeover, an effort to renovate and redesign the villages was hosted by "Extreme Home Makeover" host, Ty Pennington and was covered by Good Morning America.
After Central Moving, a Wheaton Moving Agent in Orlando, sent out a request for Wheaton agent volunteers to help with the village makeover, Gilmore Services staff joined the ranks of agents from Washington State, Michigan, Ohio, Texas, Tennessee and more.
"We're really big into service, and we just take away the satisfaction of helping families,"
said Company President, Ronnie Gilmore.
From the effort of 74 total Wheaton agent volunteers, 88 Villas were unloaded in 2 days, Over 275,000 pounds of furniture were unloaded and a total of 41 trailers were delivered to the site.
The team helped unload trailers of furniture for about 65-70 villages and moved it into the villas.