How to Unclutter and Stage Your Home to Sell Faster
Tue, Nov 26, 2013
By: Jacob Gilmore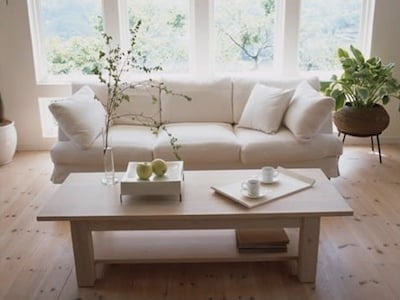 There are several important tasks to accomplish before finally settling into a new home. For many homeowners, selling your current home is high on the to-do list before looking into residential moving companies. For your house to sell, it must feel like home to a buyer. That's why home staging is so important when you're looking to sell. Here's a look at how to expedite the selling process by following these home-staging tips.
Unclutter
This is the first and most essential step in staging your home. Boxes, unneeded furniture or too many personal photos can make a house look smaller, cluttered and less desirable to a buyer. By temporarily removing these items, your house will appear cleaner, more spacious and can result in a faster sale.
At Gilmore Services, we offer a special "Unclutter Program" in which our experienced team removes selected items from your house (that you choose), carefully packs them into a moving truck and then safely and securely stores your unneeded belongings until your home sells. It's like instant staging! And, some of your home furnishings will already be packed and ready for your new home!
With the program, you are provided 10 free boxes for smaller items and two individual storage containers that can fit about 2,000 pounds each. For $199 a month, you can securely store your things at a clean, spacious facility and have the ability to stage your home appropriately to sell. If you schedule your move with us, we will rebate you 100% of your first month storage cost. Additionally, for local moves, we will deliver your belongings to your new home at no additional charge.
Furniture and lighting
Once you unclutter your home of extra furniture, positioning the remaining furniture away from walls will really open up a room. Also, try rearranging furniture in different rooms to see if it has a better appeal in a new location for potential buyers. If you have a room that doesn't serve a purpose, add value to it by uncluttering it and adding a chair or table and lamp or making it a bonus room or office.
Remember, diverse lighting creates different feelings. Stark, florescent lighting or ultra dim lighting can send unwelcoming signals to buyers. Consider changing bulb wattage and varying the type of bulbs in each room so that viewers can really see the home's details and colors.
Color
If you're interested in making a room seem bigger, you can paint the room the same color as the adjacent room for seamless look that opens up the space. For larger rooms, stick with neutral colors for a fresh, inviting impression. For smaller rooms, or on an accent wall, dark or bold colors can make a statement. Keep your bedroom colors soft and inviting, and clear out closets to show off the available space.
For more information about our "Unclutter Program", contact us to find out how we can help you clear out your home to show it off and sell it faster. As a Florida Wheaton Agent, we also offer professional residential moving services throughout Northwest Florida including Pensacola, Fort Walton, Crestview and Navarre for over 50 years!