How to Choose the Best Records Storage Boxes for Business Records Management
Tue, Nov 12, 2013
By: Jim Beran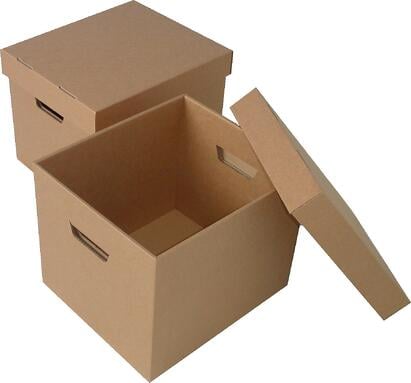 As many businesses know, hard copies of documents like contracts, banking records, receipts, employee forms, taxes or transactions accumulate over time. Although some important documents are often stored in file cabinets or desks, it's challenging to store a business' total records in one office location.
In that case, many businesses turn to a records management company for records management services and storage. Whether choosing a company for offsite document storage, or doing it yourself at a rental facility, you must consider the safety and condition of your information at an offsite location. The type of container that your important documents are stored in is essential to their preservation.
Here are a few options to help you determine the best records storage boxes for your business documents.
Download Our Free Guide: DIY vs. Professional Document Storage
Corrugated cardboard boxes
These economical storage boxes are light duty and suitable for letter or legal size paper. Corrugated cardboard boxes come in a variety of shapes and sizes and are affordable and recyclable, making them a popular choice among many businesses for storage.
Corrugated boxes usually have one layer of fluting between two liners, which gives them tear-resistant qualities that keep packaging intact and documents safe. Cardboard boxes are exceptional for long-term records storage and archived documents. You must be aware of the environment that cardboard boxes are stored in, and make sure they will not be subject to water damage or fire.
At Gilmore Services, we use the Paige Miracle Box, which offers double walled construction and securely stacks. Watch how simple and sturdy they are to use:
Plastic storage containers
Sturdy plastic containers offer another way to store your documents. For businesses using a self-storage rental facility, plastic containers may be a useful solution as there is typically no ventilation or pest control at self-storage facilities. In this case, plastic containers can help prevent water damage or mold for self-stored documents.
At self-storage facilities, it's common to stack boxes higher. Because of this, plastic containers can be easily stacked unlike cardboard boxes that can become crushed under extreme pressure.
However, keep in mind that plastic storage containers can be less economical than corrugated storage boxes. Because of this, plastic containers may only be necessary for a portion of a business's documents.
Looking for more information about your business records management needs? Download our guide on the Real Difference Between DIY and Professional Document Storage - the hidden costs, environmental factors and security measures you must know.
Contact us to find out how Gilmore Services can help you properly and securely store and manage your essential documents.