Transporting Medical Records: HIPAA Privacy & Security Reminders
Tue, Feb 19, 2019
By: Patrina Sykes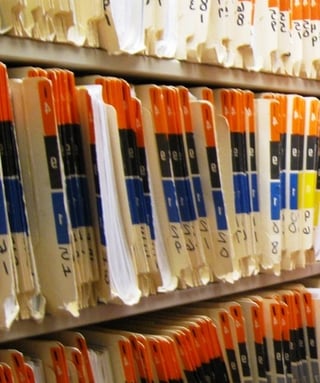 Moving important medical records from one point to another is far more involved than moving office furniture and supplies. You have a responsibility to the people whose records you store to keep their personal information secure. You also have a legal obligation under HIPAA to adhere to their privacy and security guidelines.
At Gilmore Services, one of the most important things we do is to provide HIPAA-compliant moving services for medical records. As a way of helping you handle the transportation of medical records, here are some important reminders regarding HIPAA privacy and security.
Prepare Records for Moving
A big part of having a successful move is doing the appropriate prep work before the moving day arrives. For medical records, that means doing all of the following.
Appointing a supervisor to oversee every aspect of the move and serve as the point person for the transportation of medical records.
Backing up your electronic media, including work stations, hard drives, and thumb drives that store medical data.
Numbering and labeling every box that contains medical information – including both paper and electronic files – and keeping a record so you can account for each box during and after the move.
Creating a system that ensures that no protected medical data or patient information will be left unattended during the move. In other words, no boxes may be left unattended on a sidewalk, in your old location, or in your new location. An authorized person must be with them at all times.
Checking that all numbered and labeled boxes made it from your old location to your new one.
The trickiest part of moving medical records is maintaining custody of the documents throughout the move. Even if a moving company says that they are HIPAA compliant, it's still your job to protect the records and establish your own chain of command.
What to Look for in a Moving Company
Perhaps the most important decision you will make before you move is hiring a moving company. No matter where your company is located, you'll have choices. The key is to choose a HIPAA-compliant company with a NAID certification and a stellar reputation. Here are some tips that may help.
Ask for recommendations from other companies that store and transport medical data.
Check company websites, read testimonials, and see what they say about how they handle medical records.
Research the recommended companies and check to make sure that they are NAID certified, state licensed, and that there are no complaints against them with the Better Business Bureau or the Secretary of State.
Confirm that the companies you're considering conduct thorough criminal background checks on any employees who handle medical records. This is something we do at Gilmore Services.
Ask for references and call them. Call each reference's main switchboard number (especially if that's different from the number you were given) and ask for the person you need.
These steps might seem like they're more involved than they need to be. However, hiring the wrong company has the potential to compromise your HIPAA-compliance. Worst of all, if you suffer a breach as a result of hiring the wrong company, it can destroy your company's reputation and erode the trust you've earned over the years.
Conclusion
Moving medical records in accordance with HIPAA privacy and security rules is not just your legal obligation, it's a moral obligation as well. The people whose medical records you store are counting on your to protect them. Hiring the right moving company is the best way to ensure that your records arrive at your new location intact.
To learn more about Gilmore Services' HIPAA-compliant moving services, please click here now.