Keep Your Hospital Move Liability-Free
Fri, Jan 18, 2019
By: Patrina Sykes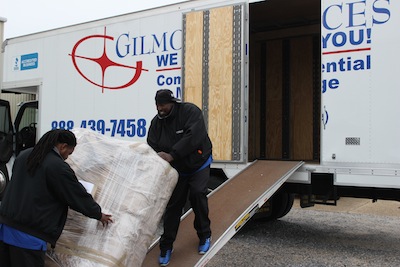 Moving confidential medical records from one location to another can present a real challenge. Any time you move data, you must comply with HIPAA regulations to protect your patients' privacy. A move represents a potential problem if your data isn't properly handled and secured at all times.
At Gilmore Services, we have years of experience transporting sensitive data safely. The key with moving medical records is partnering with a HIPAA compliant moving service. A company that understands HIPAA regulations will be able to help you move without causing you any liability problems. Here's what you need to know.
What to Do Before Moving Your Medical Records
HIPAA compliance is an ongoing obligation. When you prepare to move your patients' private medical information, you must take steps before the move to ensure that their records are safe. Here's an outline of the steps you should follow:
Back up all electronic media, including hard drives, thumb drives, and work stations, before you move them.
Make sure that you have a plan for during the move that ensures that no data protected by HIPAA regulations is left in an unlocked room or unsupervised area. Only authorized personnel should have access to it.
Make sure that every box that contains medical information, whether in the form of paper documents or electronic files, is numbered and labeled. You'll need to account for every box after the move.
Never leave any boxes that contain medical data alone or unattended unless it is locked up. During a move, it's not uncommon for boxes to be left outside. Someone must be with your confidential data at all times.
Appoint a supervisor for the move. It will be this person's job to oversee all aspects of the data transfer.
As soon as you arrive at your new location, you must account for every box containing medical data. Creating a master list will help you keep track of your data and ensure that nothing is lost in the transition from your old location to your new one.
As you can see, the process of moving sensitive patient information is a complex one. In some circumstances, you might be able to entrust any employee with moving your belongings. But, in the case of HIPAA-regulated patient data, the only people handling your data should be those with the appropriate security clearances.
Why You Should Hire a HIPAA-Compliant Moving Company
While it's certainly possible to move your sensitive patient data yourself, the reality is that it's very easy to make a mistake or leave records unattended in the hustle and bustle of moving day. For that reason, we strongly suggest hiring a HIPAA-compliant moving company like Gilmore Services.
At Gilmore Services, we adhere to all HIPAA administrative, physical, and technical safeguards. A regular moving company might say that they have experience moving medical records, but it's likely that they're saying that to get your business – not because it's true.
Records protected by HIPAA regulations must be transported in vehicles that do not transport any items or substances that might damage the records. It's unlikely that a traditional moving company will be able to certify that their vehicles are HIPAA compliant.
Finally, a traditional moving company may use temporary employees to move your records. At Gilmore Services, all of our employees are thoroughly background checked and can be trusted to handle your sensitive data properly at all times.
Conclusion
Any hospital move is a big undertaking, but you can make things easier for yourself and your staff by partnering with a HIPAA compliant moving service to transport your sensitive patient data to your new location.
To learn more about Gilmore Services' HIPAA compliant moving services, please click here now.