Why a Chain of Custody is Essential for Document Storage Services
Wed, Mar 01, 2017
By: Jim Beran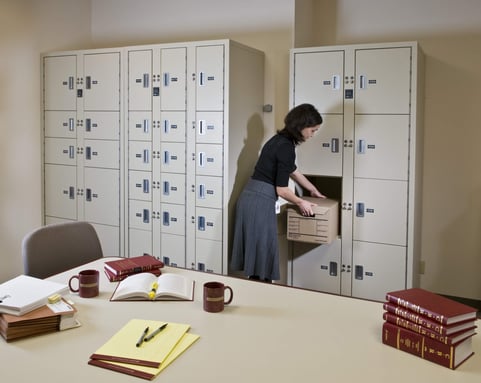 In today's highly regulated business environment, responsible business owners need to carefully manage and monitor who handles important business documents and when. If your records management plan includes offsite or digital document storage, a specific process, known as the "chain of custody," needs to be a key part of your security considerations.
While a chain of custody is important for all documents, it's particularly important for financial, legal, governmental and compliance documentation. So, when you decide to partner with a document storage service, you should work closely with them to clearly outline the chain of custody and how your documents will be tracked and managed.
Appropriate chain of custody measures include electronic validation, secure transportation and the use of confidential envelopes. Each step should prove your records are either in your possession, safely locked and secured, or kept in a secure, restricted area.
Let's take a closer look at the chain of custody and what it looks like in practice.
Pre-Verification of Documents
All documents or files should be double checked against a printed work order prior to pickup or dropoff at a secure storage facility. Ideally, this verification should be performed by someone other than the individual who retrieved the files from storage. Then, all files need to be electronically scanned and validated.
Once confirmed, all individual files should be placed in confidential envelopes to increase security and protect any confidential customer, employee or financial information. These envelopes should include a clear window displaying the company name, address and work order number.
Storage Facility Pickup
If your business sends authorized personnel to pick up files at the storage facility, extra precautions need to be taken to ensure proper chain of custody. Any individual arriving to pick up documents should sign in and be cross checked against a list of authorized personnel provided by your company.
Security staff can then confirm which company the individual is picking up items for and verify that against the company name on the clear window of the previously prepared confidential envelope.
Office Pickup
Similar precautions should be taken when your storage partner picks up files from your office. Initially, the pickup agent should confirm your company name and address in order to ensure proper chain of custody is maintained.
As with storage facility pickup, the agent should coordinate with authorized personnel and electronically validate all files against the work order number. From there, all files should be securely transferred in safe, environmentally controlled, GPS monitored vehicles.
If this is your first time learning about a chain of custody for information, the process may seem confusing, but the redundancy ensures proper compliance for your documents. If you're concerned about the chain of custody of your critical documents, Gilmore Services can help. We understand the importance of secure records management, so we meet or exceed all privacy and security requirements outlined by common laws such as HIPAA. Our document management and records storage facilities are secured by 24-hour surveillance and run by highly trained and vetted staff.
Contact us to discuss the best records management solutions for your business and take the first step toward ensuring the complete security of your company's most valuable information.