The Importance of Using a NAID-Certified Vendor for Data Destruction
Mon, Jun 17, 2019
By: Steve Clopton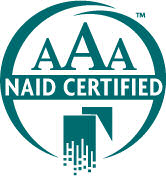 Do you have a data destruction schedule for your business? Even if you're not bound by regulations such as HIPAA and FACTA, you still have a responsibility to your clients to protect their information and destroy it properly.
Gilmore Services is a NAID-certified vendor. That means that we've worked hard to learn how to properly destroy paper documents and electronic records.
Potential clients sometimes ask us why NAID-certification is important. We love that question because answering it allows us to highlight what makes our data destruction services different from providers who aren't NAID-certified.
What is NAID Certification?
The NAID certification program was developed by security professionals and designed to help document management companies hold themselves to the highest possible standards.
Companies who go through the certification process must:
Submit to a three-level background screening process to ensure that no employees with criminal records are handling confidential records.
Put strict protocols in place to ensure that confidential documents and data are secure at every step of the destruction process, including during storage and moving.
Prove that they adhere to important regulations that govern data storage and destruction, including HIPAA, FACTA, and Sarbanes-Oxley.
Submit to unannounced audits to ensure that they're meeting NAID standards.
A NAID-certified vendor is the best choice for secure document and data destruction because the certification itself tells you that your data will be in good hands.
Why Does NAID Certification Matter?
Now, let's review the main reasons that NAID certification is an important consideration when you're looking for a data destruction company to partner with.
1) It's the Best Way to Keep Your Clients Safe
Partnering with a NAID-certified vendor is the best way to keep your clients' confidential information safe. Whether you're storing health records, financial data, or information about your clients' businesses, it's your responsibility to provide adequate security to protect your clients.
NAID-certified vendors have special training and protocols that ensure your data won't be left unprotected. At Gilmore Services, we allow our clients to track their data at every step of the way. We then provide them with a certification of its destruction.
2) It Limits Access to Your Data During the Destruction Process
As we mentioned earlier, NAID-certification requires data destruction vendors to submit to an in-depth, three-level background check. This is a security precaution that ensures that no employee of the vendor has a criminal record that might disqualify them from handling your data.
At the same time, partnering with a vendor who has a NAID certification also allows you to control who has access to your data during the destruction process. Instead of leaving it up to chance, you can be confident that your data will be properly secured from the moment we pick it up until the moment it's destroyed.
3) It Ensures Your Data is Properly Destroyed
There are a lot of things that can go wrong during data destruction. For example, a company that doesn't use the proper destruction methods may find that a hard drive they thought was destroyed has been taken and used by a thief.
DIY or inexpert hard drive destruction is a mistake that you can't afford to make. A NAID-certified vendor will use destruction methods that ensure that your data is properly destroyed and inaccessible. That means you'll have the peace of mind you deserve when you hand your data over to your data destruction vendor.
Conclusion
Partnering with a NAID-certified vendor for data destruction is the best way to provide your clients with the privacy and security they expect while also protecting your company. The NAID certification ensures that your provider holds itself to the highest possible security standards.
Are you in the market for a data destruction partner? Click here to learn how Gilmore Services can help.