Do you have a Plan?: How to prepare your Documents for Disaster
Wed, Jun 08, 2022
By: Jim Beran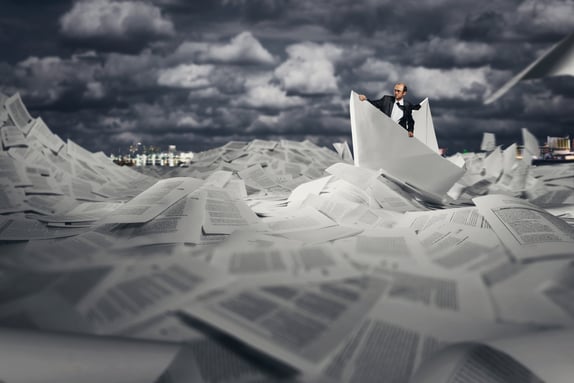 When disaster strikes you need to know that your business operations will continue to run smoothly and your information systems won't be completely uprooted. A document disaster recovery plan will help to minimize disruption to the normal operations of your business while preventing or limiting the extent of damage.
By planning your document disaster protocol before you actually need it, you have the opportunity to train your staff in emergency procedures so that in the event there is a disaster, the transition is as close to seamless as possible. This means data backup and recovery as well as established standard operating procedures that guild all staff through resuming operations in the event of a disaster or other disruption.
Document disaster recovery will vary from organization to organization and across different industries. However, having an off-site location where you can resume operations and retrieve stored data is essential.
Document Disaster Recovery Plan
There are many types of document disasters. A hacker can breach your system, you can have a total system failure, or a natural disaster can damage or even destroy your office. The key is to be prepared for whatever might happen.
Every business needs a disaster recovery plan. It doesn't matter if you are a one-man startup, a thriving small business, or a major corporation, you need a plan to continue operations and maintain the security of your data in the event of a disaster.
A disaster recovery plan does just that. It outlines how to respond in certain disaster scenarios, what precautions to take, and how to resume your organization's mission-critical functions. Continuity of operations is essential. It is important to your business as well as your customers.
Checklist for Disaster Recovery
An effective disaster plan will have detailed instructions for every branch or section in your organization. It will be maintained regularly, at least annually, but preferably every six months or so. Your entire staff should know where they can find it as well as have access to it at any time, especially in the event of a disaster.
Most importantly, it should be in digital format as well as several hard copies. Computers can fail, so having hard copies of your plan is just smart.
You can use this checklist for disaster recovery to create your own plan:
Diagrams of the equipment and infrastructure

Diagrams of workflow as well as data flow

Systems and asset inventory

Application dependencies and prioritization

Recovery time objective

Recovery point objective

Regulatory obligations, including reporting timelines and structures as well as documentation
Some regulations require businesses to report outages or breaches within a specific timeframe. That information should be included and marked as a priority.
Contact Gilmore
Disasters can be expensive. Let Gilmore be your partner in your document disaster recovery protocol. Our secure document storage, commercial warehousing and storage, and our off-site records management are great solutions when it comes to planning for disaster.
No one wants to think about dealing with a disaster, especially when it involves their business, but the reality is, it happens every day. The best way to minimize the damage is to plan ahead of time and take proactive steps to secure your documents and data.
So go with a service you can trust. Gilmore specialized in document storage for businesses and we have the satisfied customers to prove it. Contact us today to find out how we can help our business minimize the effects of a disaster.