How to Ask Your Friends to Help You Move
Tue, Jul 14, 2020
By: Patrina Sykes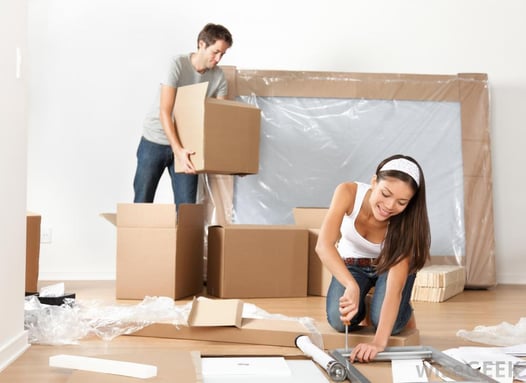 Anytime you prepare to move from one place to another, you need help. Very few of us could move our belongings without assistance. For many people, a move means asking friends to help.
At Gilmore Services, we're familiar with the ins and outs of moving, including packing, recruiting helpers, and keeping the move as fun and friendly as possible. Here's what you need to know.
Who Should You Ask to Help You Move?
The first step is to choose your helpers wisely. Here are some guidelines to use:
Choose friends who are reliable and unlikely to change their minds or forget about helping you. We all love our friends, but some are more dependable than others.
Likewise, ask only those friends whose schedules allow them to help. If you're planning to move on a Saturday and you have a friend who normally works weekends, it's a bigger imposition on them to help than it would be for a friend who normally has free time on the weekend.
Your friends may have physical limitations that make it impossible for them to help with certain aspects of your move, such as lifting boxes and furniture. However, they may be able to help with things like packing and cleaning.
Whoever you ask, you should do so with the intention of returning the favor if necessary. Moving is a lot of work and it's important to keep that in mind when you're asking.
How Much Notice Should You Give?
When you ask friends to help you move, you should give them as much notice as possible – and be as precise as possible. If you're expecting them to show up bright and early on moving day, you should say so when you ask them.
You should also be prepared for people to say no – and be gracious about it if they do. Nobody is required to say yes, not even if you have helped them with a move in the past. Be as gracious and understanding as you can.
Do You Need to Pay Your Friends?
The issue of payment is one that can be tricky when you ask friends to help you move. As a rule, you don't need to pay them as you would pay movers. One of the benefits of having friends help you move is that you can save some money.
That said, it is a good idea to offer them some compensation for their efforts. One of the most common rewards for a move is paying for one or more meals. You can keep it simple. Most people love pizza. Ordering pizza and picking up a supply of soda or beer can go a long way toward making your friends feel appreciated.
Another option might be to give your friends a small gift of appreciation after you move. The nature of the gift is up to you.
One final consideration: Think about giving the friends who help you first dibs on anything you don't intend to bring with you. That way, you can combine downsizing with moving!
How to Keep Your Move Fun and Social
Your move will be more enjoyable and less stressful if you focus on making it fun. Here are a few suggestions.
Take music requests from your friends and put them into a passive playlist to listen to during the move.
Play a movie in the background as an alternative to a playlist.
Have plenty of snacks on hand, as well as cold drinks and coffee.
Don't keep your friends waiting. If you ask them to be at your place early in the morning, you should be ready to go.
Create a schedule, so everybody knows what to do. You may need help taping and labeling boxes, moving boxes to a truck, or disassembling furniture. Making a list will minimize confusion and ensure that everything gets done on time.
Don't be a perfectionist. You're getting free help with your move. This isn't the time to give free rein to your tyrannical side. If you want everything done perfectly, you should hire professionals or do everything yourself.
There's no reason that a move needs to be stressful and unpleasant. Preparing for the day and keeping the atmosphere light and fun will help the move go as smoothly as possible.
Conclusion
Moving can be easy with a little help from your friends! Click here to learn about Gilmore Services moving referral program, which gives you a $50 Visa gift card every time you refer a friend!