How On-Site Document Shredding Can Help You Remain Compliant
Wed, Aug 03, 2016
By: Jim Beran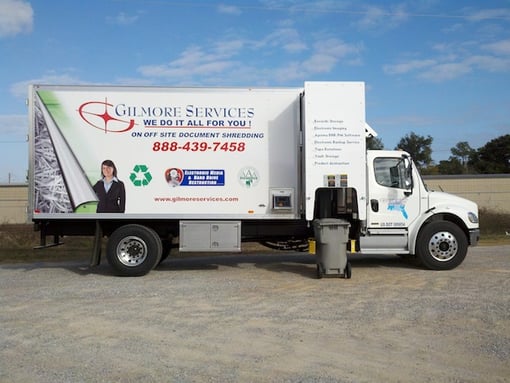 Many companies may know they need document shredding services. After all, with identity theft statistics on the rise, you've likely already begun to devise a confidential document destruction plan in order to keep your client and patient information — as well as your company's reputation — protected.
What you may not realize is that document shredding may be required to take place on-site before leaving your location. This especially applies to highly regulated industries managing medical records or financial information. However, on-site shredding doesn't refer to shredding documents one-by-one in a residential shredder. This is not only inefficient, but also potentially dangerous. Instead, maintain compliance by partnering with a professional industrial, secure shredding service.
How on-site shredding works
Many companies require in-house shredding to remain compliant. On-site shredding services come to your office or storage area to ensure that all sensitive data is completely destroyed before it ever leaves your sight. Here's how it works:
A professional shredding company will bring secure, locked disposal bins to your location, leaving them in convenient places in your office or warehouse. Employees can dispose of their documents in the bins as needed.
The shredding service will return at a prescheduled time (or on a regular ongoing agenda) with a fleet of secure mobile vehicles with industrial shredders onboard.
Trained specialists will roll the locked bins to the trucks and commence shredding of all documents within the bins, right on location.
The shredded papers (which will now resemble cross-cut confetti) will be recycled through the document shredding company.
This offers a trusted solution for businesses that require destruction of confidential or copyrighted materials directly on premises.
How on-site shredding can ensure compliance
On-site shredding is especially important for companies or organizations with stringent compliance requirements that need to ensure all proper precautions are met. These are the reasons on-premise document destruction can help ensure proper compliance:
Documents never leave your location. While some services will pick-up your documents for off-site shredding, these services keep all papers on-site so no transportation is required.
You may schedule regular visits to your location. When you have regular visits for shredding, you can be assured that your company remains on schedule and up-to-date with regards to your sensitive documents.
You will receive a certificate of destruction. A certificate of destruction is one more way you can prove that any sensitive documents have been completely and properly shredded.
How to find a shredding partner
When selecting an expert shredding partner, look for a NAID certification from the National Association for Information Destruction. This voluntary certification is a great indicator that the company takes privacy and confidentiality seriously. You may even ask the company to agree to allow you to tour their facility, equipment, and document handling processes, as well as ensure they abide by any privacy and security laws that affect your company.
Shredding is about more than just tearing up paper. When you need to make sure the job is done right, look for an expert who will come to you, adhere to your compliance needs, and validate their work every step of the way.
Learn more about how Gilmore Services can help your business remain compliant with proper document destruction services and guidance.