Examining the Top Complications of In-House Document Shredding
Tue, Jun 28, 2016
By: Jim Beran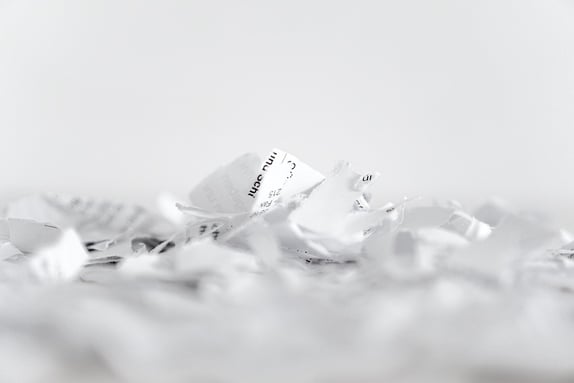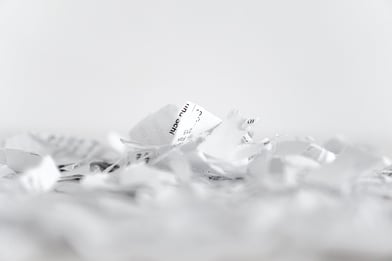 If your company needs to shred a piece of paper for data security purposes, it's as easy as running it through a personal paper shredder, right? Not necessarily.
While some businesses may be able to get by with a personal paper shredder and a few dedicated employees to shred documents here and there, your business may need something more reliable.
After all, when the amount of paper begins to build, or sensitive information is at stake, shredding in-house can go from convenient to complicated in no time.
When weighing the options of shredding documents in-house versus working with a professional shredding solution, it helps to examine your needs and goals, as well as the potential complications of in-house document shredding.
What are your shredding needs?
If you find that your company is shredding documents in-house more and more frequently, take a look at your current document shredding process. Ask yourself:
How often are you shredding paper, and how much?
Do your documents have sensitive or confidential information which must comply with state or federal destruction regulations?
What kind of time and resources are required to shred documents yourself?
Consider your environment and your current paper-shredding practices. If you know that your company needs to shred certain documents for security purposes, but there's not a set schedule or staff member responsible, things could slip through the cracks.
What are the top complications of in-house shredding?
If you're not careful, in-house shredding can become a waste of time or even a safety risk, not to mention a breach of compliance standards. Here are some of the top complications for companies who try to take care of document shredding on their own:
Time-consuming process. Depending on the amount of shredding a company needs to do in a given day, week, or month, the process can take significant time away from an employee's workday. Consistent and reliable shredding takes a dedicated employee in order to organize the papers, remove clips or staples, and shred the appropriate documents, not to mention periodically emptying the receptacle, cleaning up errant bits of paper, and taking everything to the dumpster. Employees may become overloaded with the extra tasks if a company's shredding requirements grow.
Potential for equipment failure. If your residential or small office-grade shredder overheats or breaks down, then someone will need to run to an off-site copy center or office supplies store to complete the shredding job. This leads to further potential complications that may arise when transporting the documents — not to mention the labor hours required to go back and forth.
Additionally, equipment failure can be a major safety risk. Personal shredders aren't designed to handle large jobs or non-paper components, and accidentally shredding an errant paper clip or staple could create a spark and set fire to the paper shreds. Dealing with broken equipment is one thing, while endangering your business and employees is another.
Risks to compliance standards. Sensitive documents containing bank statements, healthcare records, and private correspondence require specialized destruction processes in order for a business to remain compliant. It can be difficult or impossible to maintain proper compliance using in-house shredding practices. In the case of an audit, regulators must be able to inspect a certified document of destruction from an industry-grade shredder.
What is the solution?
While it's true that in-house shredding can work for some companies, most will benefit from working with a certified records management and document destruction company for their paper shredding needs. Not only is this a time-saving measure that can free up your space and your staff, it mitigates the risk to your employees. When deciding on a solution, we suggest you do the following:
Look for a company that is NAID AAA-certified, which will eliminate the risk of noncompliance by ensuring all state and federal protocols are followed.
Be sure to look for a licensed and insured company where employees are vetted, screened, and trained to handle your document destruction needs with respect and efficiency.
Looking to partner with a reputable records management and document destruction company? Learn more about how Gilmore Services can help you move, store, and shred secure business records and sensitive documents.