Ensuring Your Hard Drive Destruction is Secure and Compliant
Wed, Jan 30, 2019
By: Steve Clopton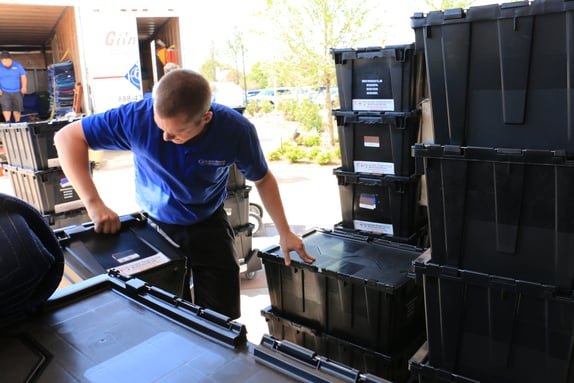 Are you taking care to properly destroy the hard drives where you store sensitive business information? A surprising number of businesses are not, and it cost them. The average business data breach in the United States costs $7.9 million dollars in lost revenue and eroded trust.
The solution is to partner with an experienced document management company like Gilmore Services. We specialize in hard drive destruction and have the resources, skills, and experience to ensure that the data on your hard drives is not recoverable after it has been destroyed.
One of the reasons that companies don't handle hard drive destruction properly is that they don't understand it. Here's what you need to know to ensure that your hard drive destruction is both secure and compliant.
Data Tracking and Compliance
The first step to ensuring proper disposal of your hard drives is knowing what data is stored on each hard drive you own and when it must be destroyed to comply with regulations. If your company isn't already tracking compliance dates, it may take a while to catalog everything.
If you fail to properly organize your data, you may wind up violating an important regulation. That can leave you open to legal penalties and may also make your data vulnerable to theft and misuse. Keeping a master list of all data going forward will make the job of complying with regulations an easy one.
Hard Drive Storage
It's a common mistake for companies to think that the best option is to store their old hard drives in their offices or in a self-storage facility. The problem with this approach is that it may leave your hard drives accessible to thieves who want the data for nefarious purposes.
A better alternative is to entrust your old hard drives to a data management company like Gilmore Services. We'll store your hard drives in our secure facility and keep track of compliance. That way, you won't need to worry about a criminal getting their hands on your hard drives.
Professional Hard Drive Destruction
Arguably the biggest mistake that companies make with their old hard drives is attempting DIY forms of destruction. Deleting files, wiping a hard drive with a magnet, or smashing a hard drive with a hammer might all seem like efficient methods of destruction. However, the opposite of true.
Even a wiped or smashed hard drive may still have recoverable data on it. If a thief suspects they can get valuable information from your hard drive, they won't hesitate to take it even if it looks like it's damaged beyond repair.
For that reason, it's important to partner with a professional data destruction service. At Gilmore Services, we have a NAID certification. That means that we agree to regular, unscheduled audits of our storage and data destruction capabilities. Our hard drive destruction techniques adhere to Department of Defense standards.
If you entrust your hard drive destruction to us, your data will be destroyed by our trusted employees, who handle data only after undergoing an extensive background check. We'll use the very latest technology to destroy your hard drives. And, when we're done, we'll provide you with a NAID certification of destruction which you can keep on file and use to prove that you have complied with HIPAA, FACTA, and Sarbanes-Oxley regulations.
Conclusion
Failure to properly dispose of your company's old hard drives can leave you vulnerable to data theft – and that can cost you both in terms of lost revenue and lost trust with your clients. Instead of wondering whether the job has been done properly, we suggest letting us handle hard drive destruction for you.
To learn more about Gilmore Services' hard drive destruction services, please click here now.