End of Year Shredding Purges with Gilmore
Wed, Dec 08, 2021
By: Jim Beran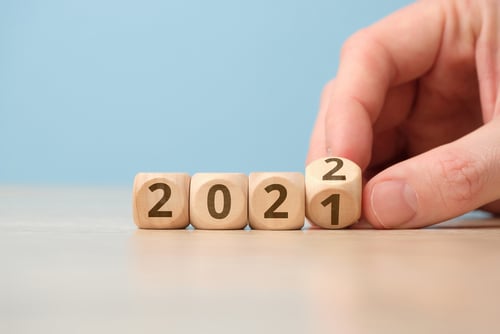 As the end of another year approaches, now is a good time to evaluate your document destruction policy and consider your end-of-year shredding strategy. While it's easy to get a little relaxed about documents that have reached the end of life, leaving them in storage beyond their shred date poses risk to your home and your identity security. Year-end purging can help free up space in your home, remove fire hazards, protect your personal information, and prevent threats of identity theft or fraud. While year-end document shredding can seem overwhelming, we're here to help.
Document Retention
Before beginning your year-end clean-up, it's important to take records retention guidelines into consideration. Even when sorting through your records at home, you'll want to have a general understanding of records retention guidelines to prevent shredding something that you should retain longer or retain forever. As an example, childcare bills from 1997 can be shredded but you'll want to hang onto your 2018 tax returns for a few more years. This guide serves as a quick reference for records retention, outlining how long to keep common documents like death certificates, tax records, and receipts.
Shredding Purges
Many households keep a filing system by shred date and schedule a shredding purge once a year, often at the end of the year. Here's how it works:
keep active files in the front of the filing cabinet and archive (move to the back or separate filing cabinet) at the end of each year
when you archive documents, list a shred date on the exterior of the folder based on records retention guidelines (for example, 2012 taxes with a 7-year retention period would say "SHRED 2019" on the exterior of the file)
at the end of each year, access your file system and pull all files with a shred date this year
arrange for a local shredder like Gilmore to destroy your documents safely and securely
There are several benefits to keeping an organized file system and scheduling a shredding purge at least annually. It ensures you maintain only the documents you need, which limits the information readily available in case of a security breach (like a break-in). It also makes space in your filing cabinet for new and relevant files and eliminates the need to buy additional document storage solutions.
Contact Gilmore
When choosing a document shredding service in Florida, there are several things to take into consideration:
Do they offer off-site and mobile shredding?
Will they provide a certificate of destruction if I need it?
Can I watch them destroy my documents for peace of mind?
Do they have locations near me?
With locations throughout Florida and Alabama, Gilmore offers a wide range of security services including on-site and off-site shredding, which means we'll come to you, pick up shredding, and shred your documents in your presence for your peace of mind. You can also drop off shredding if it's more convenient for you. To learn more about shredding services or schedule your annual shred, call Gilmore at 888-4397458 or visit us online today.