7 Reasons Your Business Needs Shredding Services
Wed, Oct 21, 2020
By: Jim Beran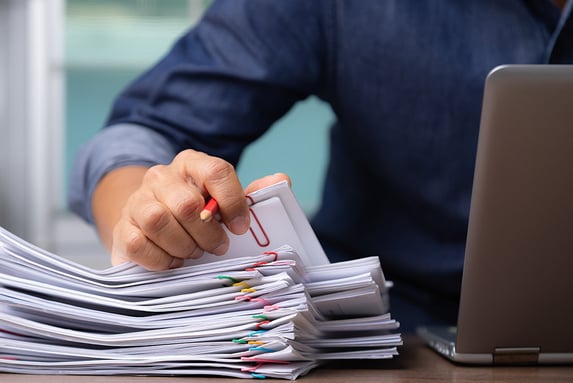 If your business shreds documents in-house or does not shred documents at all, you should consider retaining a shredding company to help you prevent your customers' information from being stolen or hacked from your computers. Shredding documents with an over-the-counter shredder might not create pieces of documents that are small enough, which means they are at risk of being recreated.
Additionally, when you shred documents yourself, they probably do not go to a recycling plant to be recycled. Instead, they end up in the trash and could become an identity thief's dream come true.
1. Stay Compliant with State and Federal Laws
Both federal and state laws dictate that you must protect your customers' and clients' information from identity thieves. You could face extensive fines plus lose customer trust if the public knows that you suffered a breach of privacy. This is the main reason why your company needs shredding services – staying compliant with state and federal laws.
While all businesses are held to the same basic standards, some professions, including doctors and lawyers, have higher standards to adhere to. Shredding your documents ensures that you do everything possible to protect your customers', clients', patients', and employees' information.
2. Prevent Wasted Space in the Office
Onsite shredding not only protects the sensitive information in your office, but it also helps you to prevent wasted space. Once you no longer have to keep a file, you can put it in a locked shred box to keep it safe. You'll make room in your filing cabinets for new files and can reduce the need for off-site storage, which might not be as secure as you'd like it to be.
3. Save Time and Energy Destroying Documents
When you have someone in your office shred documents, you pay that person good money to shred documents. Additionally, he or she could be doing billable work instead of shredding. Depending on how many files you need to shred, shredding could take that person away from his or her job for hours.
4. Keep Sensitive Information Away from Thieves
When you use our shredding services, you keep sensitive information away from thieves. Your information security practices meet state and federal guidelines; thus, you are less likely to find yourself in a bind because an unauthorized person stole sensitive information.
5. Build Customer Trust
When you implement good information security practices, you build customer trust. If a customer is leery about leaving sensitive information, such as medical records, legal information, social security numbers, and other personal information with your company, you could lose that customer and anyone he or she might refer to your business.
6. Make Recycling Easier
Your recycling duties become very easy when you use our shredding services. Our truck comes to you and shreds your documents. The shredded documents are then baled and sent to a paper recycling plant. You don't have to worry about shredded documents being put back together or hauling them out to the trash.
7. Save Your Business Money
Finally, you can save your business money. Should you suffer a breach, you might have to pay state and federal fines because of the breach. You'll save on potential fines, plus you'll save since your employees can do the work you hired them for.
Contact Gilmore Services
For more information on shredding your documents and our secure onsite shredding services, contact Gilmore Services to set up a consultation. We'll help you determine the frequency and schedule that works for your organization to shred old files and documents.