A Day in the Life of a Records Management Company
Wed, Jun 08, 2016
By: Jacob Gilmore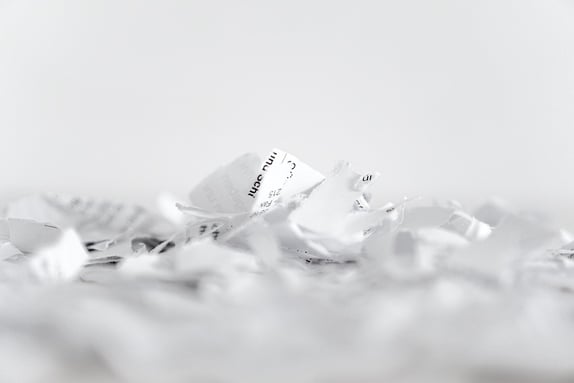 If you're thinking about partnering with a records management company, it's a good idea to learn how the company operates and what exactly it can do for your business. After all, you'll be relying on that company to handle, store, and securely dispose of your company's sensitive physical or digital documents, so you'll want to know what the company does and how it can help.
Have you ever wondered what a records management company actually does in a typical day? Here's a hypothetical "day in the life" to help you learn just what can be accomplished in eight hours.
8:00 a.m. — Head to an on-site shredding job.
Some companies or organizations have specific protocols that require any sensitive or personal documents to remain on premise until destruction. Records management companies often schedule visits to places like hospitals or banks in order to perform on-site shredding services and dispose of sensitive documents in a safe, compliant way.
9:00 a.m. — Pick up sensitive documents from multiple businesses to destroy in a secure industrial shredder.
Some records management companies offer pickup services for businesses in need of regular document destruction services. The records management company leaves secure disposal bins at these locations, where employees can deposit sensitive documents throughout their work week. The records management company then arrives at a scheduled time to pick up the materials with a secure vehicle, return to their shredding facility, and prepare the documents for secure shredding and environmentally friendly recycling.
10:00 a.m. — Pick up documents from a business for document storage.
While some companies require document destruction services, others simply need better and more secure document storage solutions. A records management company might spend a portion of the day picking up your company's documents and securely transporting them to their off-site document storage facility. Not only will you have a lot more free space in your office, but renewed peace of mind knowing your documents are safely stored with the proper security and compliance measures in place for the life of the documents.
11:00 a.m. — Destroy hard drives and other electronics.
Properly destroying hard drives, disks, cell phones, and other digital media records is an essential step for many organizations tasked with maintaining security and compliance. A records management company will spend part of the day going on-location, collecting all hard drives and other media for disposal. Then, a team of trained experts will document each serial number before physically destroying the outdated data using a secure destruction process aligned with federal standards.
Noon — Meet with a company to develop a records retention schedule.
A great records management company will be glad to schedule meetings with new or prospective customers to outline a custom records retention schedule. This can help limit the risk of destroying information too early or keeping documents longer than necessary with a pre-determined schedule that notifies an organization when items are ready for disposal. When it's time to get rid of business or personal documents (like vital records, email correspondence, tax documents, or healthcare reports) the records management company contacts the business, then proceeds with destruction following proper protocol.
1:00 p.m. — Help a company access information quickly and securely.
You know that feeling when you need particular document on a deadline but cannot locate the file? This kind of complaint is all too common, and a records management company can help. A typical day might include helping a company organize, archive, and manage their data — either digitally through a secure server, or in an organized off-site storage facility.
2:00 p.m. — Scan records for a company to be accessed digitally.
Many businesses could use some assistance transitioning their records from a purely paper-based system to a digital format. A records management company can help you convert unruly boxes of paper files to digital records by scanning on demand or converting bulk files into software formats such as PDF or TIFF files. This way, the documents are easily accessible over a secure server.
3:00 p.m. — Help assess damage In the case of a natural disaster or flood.
A records management company would never hope for natural disaster relief to be on their daily schedule. However, emergencies do happen. For example, in case your company experiences a flooded storage area and your records become water damaged, a records management partner can jump in as soon as possible to assess the problem, put a plan in place to salvage the documents, and strategize for safe and secure document storage in the future.
At Gilmore Services, records management is all in a day's work. To find out more about how Gilmore Services can keep your company protected, organized, and compliant, contact us to speak with a records management professional.