4 Ways to Declutter and Prepare for Your Move to Smaller Office
Wed, Jul 05, 2017
By: Patrina Sykes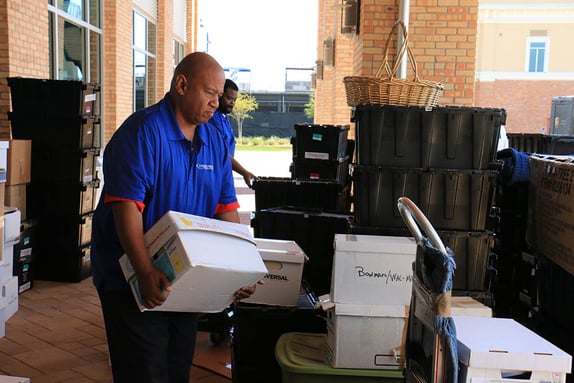 As a business owner or facility manager, you probably associate the concept of "bigger and better" with the idea of moving your business to a new location. But sometimes, even for companies that are doing just fine financially, opting for a smaller location offers even more benefits as far as streamlining, simplifying, and cutting operating costs.
But, moving to a smaller facility has its own challenges, too.
Since we realize moving is one of the most stressful things people can do, as the leading Pensacola moving company (and a proud Wheaton Moving partner,) we want to make sure you're well prepared to make the most of every move you undertake. Here are four powerful tips that are sure to make your move to a smaller facility easier and less stressful:
Start with an audit
The easiest and most effective way to determine what's essential and what's not is to run through a thorough audit of what you currently have, so you know what you're working with.
This can be as simple as touring the office with a blank piece of paper and a pen and making a list, or as involved as setting up a database that everyone has access to and coordinating an audit on a person-by-person basis. We recommend keeping things as simple as is practical for the size and scope of your operation.
For most small-to-medium businesses, a simple spreadsheet broken down into categories should suffice. These categories could include:
Furniture (desks, chairs, partitions, appliances)

Technology (computers, mobile devices, conference equipment)

Stock (products or raw materials)

Equipment (machinery, vehicles, tools)

Records (primarily paper, but also digital if it's substantial enough to take up room)

Miscellaneous (personal items, coffee maker, etc.)
Then, simply fill in the names and numbers of various items under their appropriate categories. You don't need to go as far as counting the number of individual paper clips currently on-hand, but don't be too broad and general either.
The eventual goal is to determine how much of what you currently have can be removed in preparation for the move, so it pays to run a thorough audit.
Identify wasted space
If you already have a new, smaller facility waiting, this process can be made simpler by taking some quick measurements or obtaining a floorplan of the new space. But, even without having an actual floorplan available, you can look at your current list of items and determine where space is currently being wasted.
For example, running through your current list of furniture, appliances, equipment, and other items taking up space in your office or production floor, ask yourself:
Is there anything here that rarely if ever gets used?

Is there anything here that simply duplicates another item's usefulness?

Is there anything here that can be converted, updated, or otherwise changed to shrink its footprint?
For example, a lot of companies that have been in the same location for a long time will have some version of "the records room," which is usually a long row of file cabinets or stacks of archive boxes loaded with paper records that may go back decades. Is it necessary to keep all those records indefinitely? (Probably not.) And even if it is, is there any reason you can't have them scanned so they sit inside your laptop's hard drive or in the cloud rather than taking up 200 square feet of office space?
For helpful guidance and compliance information regarding properly handling paper and digital records, check out Gilmore's records management division.
Take action prior to Moving Day
Whatever you decide based on your audit and review of wasted space, it's important to take action to eliminate or downsize everything you can prior to the day of your big move. After all, anything that doesn't fit in the new facility is going to cost you extra time, money, and effort to store somewhere offsite.
So, as early in the process as possible, you'll want to make an effort to do one or all of the following:
Sell unused/unnecessary equipment, tools, furniture, etc. Craigslist, local business classifieds, eBay, and a host of other opportunities exist for making a few dollars off of used items that are still in usable condition. However, it's better to go ahead and throw something out as opposed to lugging it around with you to a new location for no reason.

Have unnecessary

paperwork destroyed

,

converted to digital

, or

securely stored offsite

(if necessary).

Compare prices on upgraded equipment, furniture, and other items that take up less space and/or combine functions currently requiring two or more pieces of equipment. If the value of simultaneously downsizing and upgrading is worth it, make the investment before you move, not after.
Get professional help on Moving Day
Even after preparing flawlessly, decluttering, and eliminating unnecessary items, the day (or days) of your move is going to be stressful. Don't try to take it all on yourself or rope your employees into overtime grudge work.
Instead, work with reputable, professional moving services in Pensacola with the resources and experience to handle your move quickly and efficiently. This leaves you with peace of mind, and allows you and your team to get back up and running as quickly as possible in your new facility.
The certified, experienced team of professional movers at Gilmore Services would like to be that moving company if you're considering changing commercial facilities in the near future. Contact us to discuss your project and we'll help you prepare with time to spare.