3 Must-Do's Before Moving Into A New Home Or Business
Thu, Mar 23, 2023
By: Patrina Sykes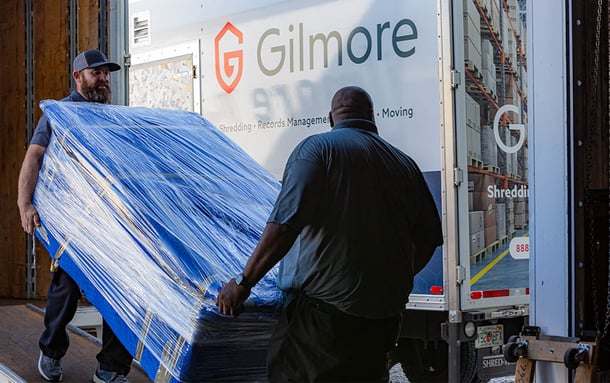 While relocating to a new home or business can be overwhelming, it's also a great opportunity to reduce overwhelm by decluttering and purging. Because you're going through your belongings one by one in order to pack them away, it's the most opportune time to evaluate which items still add value and which items can be donated, thrown away, sold, or securely destroyed. You might not immediately consider documents in the list of things-to-review, but documents belong near the top of the list. Moving documents that contain confidential information from one home or business to the next poses risk to everyone involved; be sure to move only those that you still need.
Identify Documents That Don't Need to Move With You
As you begin to sort through old documents in preparation for relocation, the type of document and its retention period will determine what needs to come with and what can be shredded. If you're moving into a new home, consider securely shredding the following documents:
old bank statements
canceled checks
tax returns that are past retention requirements
junk mail
old photos that you don't want anymore
expired forms of identification
old boarding passes
itineraries from past trips
old notes - you never know what you jotted down on a post-it note or in a notebook
If you're moving your business, securely destroy the following documents when they're past their required retention period:
business plans
bank statements
canceled checks
tax returns
junk mail
applications for licenses, insurance, etc.
job applications from candidates
employee files
client demographic data
proprietary information
bank account or credit card information
Additionally, whether you're moving into a new home or business, identify old electronics that you don't plan to take with you . These require secure destruction to avoid data breaches, too.
Securely Move and Destroy Appropriate Documents
Now that you know which documents you need and which documents you don't need, you can address each pile.
Locate a secure moving company to assist with relocation. Companies like Gilmore can move documents securely, in compliance with HIPAA guidelines, for those who need or want additional security measures in place.
To address the documents you no longer need, choose a shredding provider who can securely destroy documents and hard drives. When choosing a provider, select a company that provides services in your area, that has positive online reviews, that offers the specific services you're seeking, and that can provide a certificate of destruction (COD) if you need it. Additionally, now is a good time to set up an ongoing documents retention and destruction plan and evaluate service providers to determine whether they can meet your ongoing needs.
Contact Gilmore
Whether you need some help with documents retention or are ready for shredding services, Gilmore is your Pensacola expert. Offering on- and off-site shredding, data destruction, scanning/imaging, document management, records storage, and assistance with both commercial and residential moving, Gilmore knows documents. Contact us today!